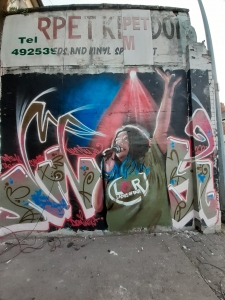 Last weekend I painted a mural of the amazing Cardiff singer/songwriter Saint Bernadette. Turns out the timing was pretty fortuitous because on Saturday I had the pleasure of performing alongside Saint Bernadette and some fellow Ladies of Rage (LOR) members, as part of Trishna Jaikara's DJ set for the BBC6 Music Festival.
When the festival was announced I was very late to get on the hype-wagon… nowhere in my head was this going to be a space where I would perform, or have that performance played on the radio! The main conversation in our house was about how mean it was to bring these amazing artists to Cardiff but not to let under 18's go to any of the gigs…
Immersed Fringe Festival (Tramshed)
I was grateful to be included on the Immersed fringe festival line-up as a visual artist. Because I was painting I didn't catch much music, but I did see Monique B kicking off proceedings. Accompanied by her Baby Queens bandmates Cara Elise and Leroy Rahman, with some solid collabs with Reuel Elijah, Monique's beautiful vocals and easy crowd interaction cement her as a solo artist who I look forward to seeing again.
I was gutted to have missed Miss Faithee, who smashed her set for the LOR IWD celebrations last month. This woman has an amazing stage presence and strong, catchy tracks – there is simply no reason for her name not to have been in large font alongside the other Immersed headliners.
The only other artist I did manage to catch was my Bard Picasso label-mate the Honest Poet. I've seen him a few times and his performances always blow me away – lush vocals, deep lyrics and an honest, poetic, heartfelt delivery.
Big up to Bard Picasso for securing a last-minute takeover and offering half of it to Ladies of Rage. Bard Picasso aspire to have gender equality on their future line-ups, and Immersed was the beginning of this. The bar area takeover was an intimate affair, where we were blessed to have two legends from Cardiff's Hiphop scene hosting. Dregz is probably Cardiff's most experienced Master of Ceremonies, and Cara Elise's band Baby Queens were one of my first inspirations in the Cardiff scene. I was lucky enough last week to hear Dregz speaking on a panel discussion about black music in Wales hosted by Dionne Bennett – an overdue conversation, and one that needs to continue.
BBC6 Music Festival
Another discussion panel that Dionne was on, as chair of LOR, in conversation with Afrodeutsche. Myself, Trishna Jaikara, and Teifi joined Dionne to speak about LOR and parts of the conversation were played back on Afrodeutsche's show with Huw Stephens (2:09). Trishna Jaikara followed up the discussion with a DJ set with live tracks, some of which was AIRED LIVE! (0:54)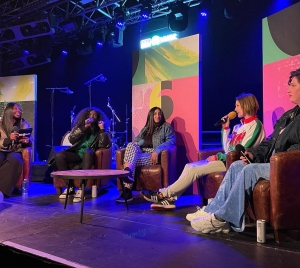 The festival has definately shone a light on the Cardiff music scene – Missy G was interviewed by Mary Anne Hobbs (0:36), and I also heard Leighton Wall speaking about the Welsh Ballroom community. It was great to hear DJ Jaffa on Huw Stephens' show (2:13), dropping some Hiphop history and playing tracks including Juice Menace, who I'm so glad I caught at Porters. Alex Jones has been absolutely smashing it at her events role for Porters, creating a lively, exciting melting pot of Cardiff's musicians and students. In true Hiphop fashion, Juice brought on a couple of unknown artists for her set, and I am very excited to see more of Mercy Rose in particular.
A coupla gigs that would have broken me if I had tried to cram in, were The Shutdown Show's Moon gig with Eadyth and Izzy Rabey headlining, and Sound Progression's Fringe takeover at CultVR where I was hoping to catch a young rapper called Truth – look out for him…
I have to give props to Minty who I'm pretty sure went to every single event over the festival! He was also interviewed on Politics Wales, BBC One Wales! Please take a few minutes to have an explore of his online gig guide map, which is a stunning piece of digital art, and will only serve to enhance and grow our blossoming music scene.
I rounded off the week with a long overdue night out with my husband, where I discovered Jam Supernova – HYPE!!! Much love to BBC6Music for bringing such an eclectic mix of music and people to our city – I met people who I was surprised to hear had travelled from Liverpool and as far up as Edinburgh, how lush to show our city off in this way. Onwards and upwards – let's keep building together!!
Catch me painting:
Her Mark launch event: April 9th, Spit & Sawdust (also catch Missy G, Mercy Rose & Teifi here!)
(7) Her Mark launch event | Facebook
Bring The Paint, Leicester: 28-29th May
HOME | bringthepaint
Cheltenham Paint Festival: 30-31st July
Home | Cheltenham PaintFest (cheltenhampaintfestival.co.uk)
My solo exhibition runs at the HeARTh Gallery, Llandough Hospital until April 18th.
And performing:
Supporting Lazy Habits: 22nd April, Tramshed, Cardiff
(4) Lazy Habits – Vermillion Sands Album Tour | Facebook
Supporting The Scribes: 29th April, Le Pub, Newport
(4) The Scribes / Blue City CDF / Unity – Newport | Facebook
Focus Wales: May 7th, 4pm, 7Bar, Wrexham
FOCUS Wales 2022 » Unity
Ci Annwn (Bard Picasso): 11th June, Moon Club, Cardiff
EVENTS TO LOOK OUT FOR:
Baby Queens at Focus Wales: May 6th, 7pm, Penny Black Room2, Focus Wales, Wrexham
FOCUS Wales 2022 » Baby Queens
Monique B at Focus Wales: May 6th, 11.40pm, Penny Black Room1, Focus Wales, Wrexham
FOCUS Wales 2022 » Monique B
Honest Poet at Focus Wales: May 6th, 8.45pm, Old No7, & May 6th 11.20pm, Penny Black Room1
FOCUS Wales 2022 » The Honest Poet
Bard Picasso Presents: Barred#1: May 14th, Moon Club
(7) Bard Picasso Presents: Barred#1 | Facebook
https://millimagic.com/wp-content/uploads/2014/09/millimagic2-300x150.jpg
0
0
amelia unity
https://millimagic.com/wp-content/uploads/2014/09/millimagic2-300x150.jpg
amelia unity
2022-04-05 08:52:26
2022-09-10 11:24:03
BBC RADIO 6 MUSIC FESTIVAL IN CARDIFF!