Red & Blue ~ a five-track project by Unity ~ Released 19th August 2022
~ choose your myth and act accordingly ~
Words by Jane Oriel & Doc Blackdawho
Diving Deeper was Unity's first release with Bard Picasso in 2021. Now comes her new work, Red & Blue. The project is an expression of the struggles we all face, and Unity's ways of coping with the complexities. 
TRACK LISTING
The lead track Red & Blue (featuring Wolfgang Von Vanderghast and produced by Billy Phono) explores contradictions; those internal and external battles and how everything is interwoven. There are questions:
Who are we?  – Descendants of apes and living on a giant rock that spins around an even bigger ball of fire. 
What are we?  – At birth, we inherit a bunch of 2D labels that can't possibly fit our 5D being. 
But when those labels and expectations are stripped away, who are we? Could we become anyone in any moment? When you live by the roll of the dice and acknowledge the myriad personalities existing beneath the surface, who is the true you? Choose your myth and act accordingly!
High Street Bullshit (produced by Rollo)  
In neglected city areas of Swansea, graffiti writers overcome conflict to work together instead of against each other in a system that wasn't designed to be inclusive. 
Faith Makers (Featuring Missy G. Produced and mixed by Leone Vuetivavalagi.)
There is so much sadness in the world it can be overwhelming, but beneath it all we are human – we all have access to empathy and smiles and rainbow coloured wisdom.  
Dead Boy Walking (Featuring Skunkadelic. Produced by DW Smith. Additional vocals by Stabitha.)
Unity would hear teachers talking when she worked in Primary Schools. They'd tell tragic stories of parents there who held their children back by neglect and/or intent so they could claim disability benefits. Children were coming to school unable to speak or use the toilet because they hadn't learned at home but had just been given a screen.
Running (Produced by Unity. Additional vocals by Stabitha. Cuts by DJ Veto.)
Are you running to, or are you running from? You need to bravely face yourself first before you can face the world head on.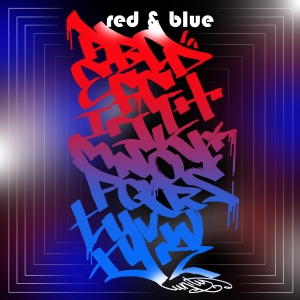 RELEASE INFO
Lead track, Red & Blue is released by Bard Picasso Records, 19th August, with the full 5 track Red & Blue project available the same day via Bandcamp – Unity. Available to stream from 9th September.
All five track on the Red & Blue project were mastered by Jamie Winchester, who also mixed all tracks except Faith Makers
EARLIER WORKS
Diving Deeper (2022) Bard Picasso
Garden of my soul (2021) 
Progress is a process (2020) Later Records
https://millimagic.com/wp-content/uploads/2014/09/millimagic2-300x150.jpg
0
0
amelia unity
https://millimagic.com/wp-content/uploads/2014/09/millimagic2-300x150.jpg
amelia unity
2022-08-19 18:55:33
2023-04-17 10:50:18
Red & Blue OUT NOW