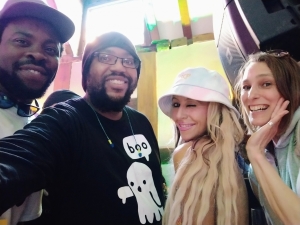 Hey all. It's that Leo guy again with my final blog post on FOCUS Wales 2022 in association with Unity and LOR Cardiff. I've seen the reactionary love and the retweets for my scribings from earlier in the week. Thanks, it means a lot, nice to know that I'm having a positive impact. Perhaps I should do more of this more often.
I started writing this the Monday morning after on a train that departed early doors from Colwyn Bay. Wait, what? A bit of a trek from Wrexham, right? Well, what you need to know about me is that while the festivals may wrap up for another year, the live music does not.
A dear DIY musician friend of mine who goes by the name of Grant Sharkey is currently on a tour of his own in promotion of his latest album. He travels all over the UK in his car to play to anyone willing to listen. And how fortuitous it was that he happened to be playing a string of shows in Wales at the same time I was in the country. He played an open mic night at The Pavilion in Colwyn Bay the evening after FOCUS, so it was an absolute no brainer to travel further north to see him and his double bass in action. Yes, you read that right. Here's some pictures. And go check him and his music out, there might be something there that you'll like.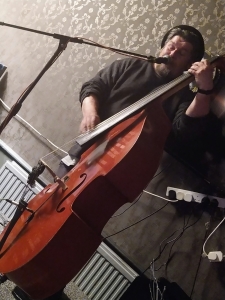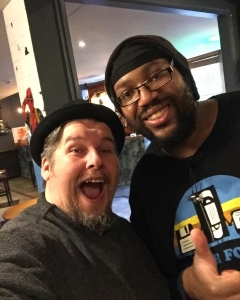 (The second of the two pics is used with permission from Grant, because, frankly, the selfie he took with his camera is far better than the one I did.)
Yes, a little digression there, but a little something to give you a better insight into me and what I'm all about with the live music thing. It's my biggest passion in life, I love it so much.
People will have said this before about FOCUS, but the general vibe of the festival is so special. And how cool is Wrexham for the setting? I'll definitely consider travelling there for one off shows in the future.
I loved the interactions and conversations with people outside the venues as much as what I saw on the various stages. Interactions such as the two I had with members of Vagina Witchcraft, they are really cool people. Giving a cheery hello and appreciation of the set they just played to Aleighcia Scott and her bandmates as they walked past me on the Friday evening. Seeing the bandmates of Samantha Savage Smith having breakfast in the dining area of the hotel on the day of departure, walking over and having a friendly conversation and giving them tourist tips for when they visit Manchester later during their tour.
Numerous fist bumps with Skunkadelic when passing each other at various times. Bonding with Kaptin Barrett over a shared appreciation for black midi. The quickest of catch ups with Maditronique in the entrance of The Royal Oak. So many welcome LOR interactions, too many to mention but one that stands out was a nice lengthy chat with Małgola a few doors down from The Parish on Friday. I was unable to see her solo set at FOCUS – that's clashes for you – but I know even now that I am certain to catch a future solo or 100% Rabbit show. Just a question of when.
So many others I could mention and they were all good, but yes, you're right dear reader. Time for me to get on with the day three FOCUS review. I hear you.
Just the mere twelve hours of action to close out proceedings. But I didn't miss, I saw everyone as planned – and, get this – I actually scheduled a meal break for once as opposed to grabbing a quick bite on the go! Yay me for being sensible.
My day started off at Hope Street Church and with a showcase laid on by Fierce Panda Records. Manchester band SHADE were up first, and they did a very solid job of getting things up and running.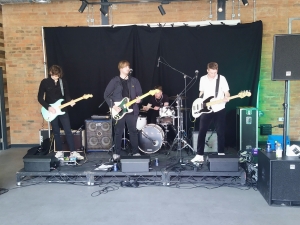 If you're going to call yourself Enjoyable Listens, you'd better have the tunes and the character to back it up. Both boxes checked, and Luke – the guy who bought his suit from a charity shop for a fiver just minutes before the set started – has oodles of charisma. His in between banter was on point, and I enjoyed a nice chat with him afterwards. We'll meet again.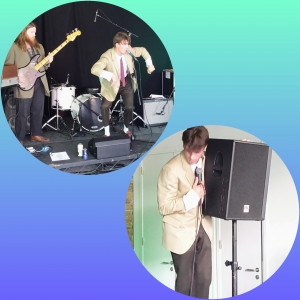 Good three piece bands will always bring the energy, and JW Paris had plenty of that. The photo you see below should provide ample proof of this. People moved around in quite the enthusiastic manner during their set.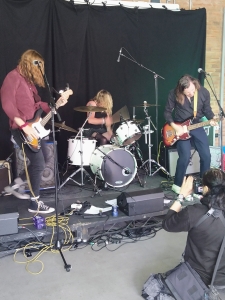 I planned my entire time at HSC on day three around Moon Panda, their Spotify offerings impressing me greatly during the planning stages. They lived up to my expectations when on stage, and like so many other people I encountered this weekend, they're cool people too. If things work out, I might have a chance to see them again later this week in Brighton. Yes people, I do get around.
Now excuse me if you will, but I'm going to step away from doing things chronologically just for a moment. Because what I saw next from Unity and the LOR crew at Old No. 7 needs way more emphasis and attention. You'll read more on this later, but for now look again on the cover shot of myself with the aforementioned Unity on the right, Skunkadelic and the fabulous Cara Elise.
I hate the fact that UK Garage declined in mainstream popularity at some point in the noughties. I still have a lot of love for the two-step, and what I saw from Niques was top drawer. She has bags of personality too, and she made everyone in the sizeable Old No. 7 crowd feel as if they were all a part of it, like one big happy gang.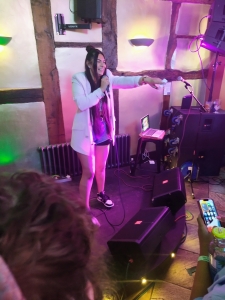 My final visit of the festival to The Royal Oak and its single file viewing saw me take in a solo set from Aderyn. She's got the tunes and the chat, and I enjoyed what she had to offer.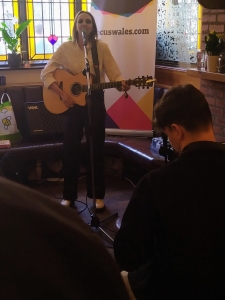 A flying visit to CENTRAL after the aforementioned meal break saw me go over to Room 2 and take in a set from Irish band Manilla Times, their choice of stage outfits a clear show of solidarity with the country they were playing in. They did a good job, and a shout out to the little lad also in this shot, he was well into it and I loved to see his enthusiasm. He started a one man moshpit at one point.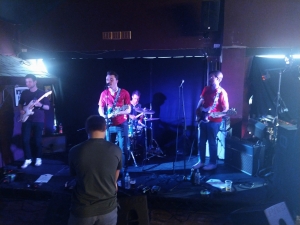 I saw Razkid do his thing at 2021's FOCUS, and I was expecting something good from him at Penny Black. Of course the man delivered, and it was cool to be a part of the crowd there to see him do his thing. He kept calling on us to come further forward, at one point I thought that we were all going to be hanging out with MINAS behind the decks. More on him later.
One final visit to Llwyn Isaf to catch the set of Art School Girlfriend, in case you didn't figure this out from the snap below. I liked what I heard.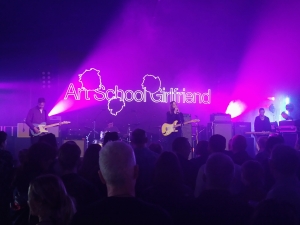 Back to Old No. 7 to catch a piece of history in the making. Whenever I mentioned the name of sorry stacy to anyone, those in the know without exception told me how good she is. I'd planned on seeing her before reaching Wrexham in any case, but the glowing reports received from others only served to heighten expectations.
She did really well. It's highly likely that she would have been dealing with first performance nerves, but if she was she hid them well. Hopefully we'll be seeing and hearing more from her from a stage many more times in the future.
Back then to CENTRAL and the nightly shuffle between Rooms 1 and 2. What I will discuss here will be out of sequence with good reason if you continue to read on.
The last time I saw Big Thing was many years ago in my Swansea residing days. I'd come over to Cardiff for a gig at Clwb Ifor Bach and they were one of the support acts, playing then under their previous band name of Winter Coat. Until Saturday night I hadn't had the pleasure of seeing them on a stage since then, I definitely enjoyed the experience this time around.
I read in the artist bio section on the FOCUS Wales app that SUNHILL named themselves after a cheap wine brand. It would have been funnier still if they'd somehow come across some old episodes of The Bill in their native Sweden and used that as their band name origin story instead. They were quite loud, but very good and they had Room 2 rocking.
Next in the top to bottom trio are KEYS who also made a joyful noise to those in Room 2 land, and Eitha Da who took advantage of a longer set time to give a largely knowledgeable and appreciative Wrexham crowd everything that they wanted and more.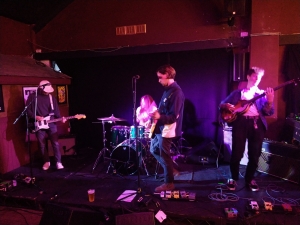 CRAWLERS were a band that I cast a particular critical eye over. When planning for gigs and festivals over the past few months, I kept seeing their name popping up over and over again. So I'm like okay then, let's see what you got.
And you know what? Yes, I'm believing the hype. They have decent songs, and their leader Holly Minto was definitely meant to front a band. I particularly liked the way how she went out of her way to personally acknowledge those who were there just for her band in the front row who had queued outside the venue long before it opened. If they maintain that level of love and respect for their fans throughout, they'll go far. Definitely keen to see where they go from here.
But out of everyone I saw in CENTRAL that night, nobody had a greater impact on me than MINAS.
Yes, the above sentence is there on its own for deserved greater emphasis. Man, this guy. I'm not going to suggest for one second that people who perform aren't passionate about what they do. But there are some out there who are next level, and it just shines through in their output. He is one such person.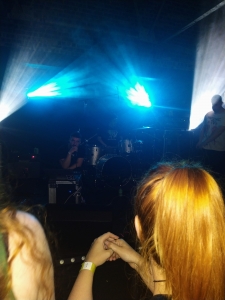 I saw him in various places during the week on deck duty for other artists playing. Some performing acknowledged his role in the production of some of their work. (I particularly enjoyed Niques during her set talking about setting up a potential Direct Debit scheme in order for the two of them to get back into the studio to work on new material as quickly as possible.)
This dude gets it. His desire to help other artists be the best they can be shines through. And as for his own work…damn! Just damn. Let's just say that man's set flew by quickly, and I could have listened to twice as much.
As I said up above, his passion comes through loud and clear in his performance, and the impact on those in the crowd was pretty cool to see too. Especially Benji Wild. He was 100% feeling it. I'll remember his reaction to what he was seeing just as fondly as the performance.
Definitely have to see him somewhere again with the mic in his hand, and it doesn't necessarily have to be at a future FOCUS. Joint best performance of the day for me.
Okay, you've waited long enough. Time to rewind back to Old No. 7 and the Starving Artists CDF showcase as hosted by Skunkadelic.
I started talking to Unity about the prospect of writing this guest blog on her website from the previous Sunday. I consider myself to be reasonable at this writing thing, so why not?
We then met up in various places during Wrexham, watching the same artists play on many an occasion. To be honest, it blew my mind a little when she made it clear on the prior Sunday how much she appreciated my passion for live music, as we hadn't spoken much to each other at that point. But we have mutual friends, hence the invitation to blog.
(Big up LUCE KANON and St Bernadette. Your collective presence was definitely missed in Wrexham this year!)
So it has been cool bonding with her over the past week. And of course I was looking forward to her set at Old No. 7, along with the LOR crew.
Having seen her in the exact same venue last time around, I knew that it was going to be good. After all, how could she fail with TrishnaJaikara backing her up on the decks? And also with Cara Elise pacing her with her own silky smooth vocals? What a team.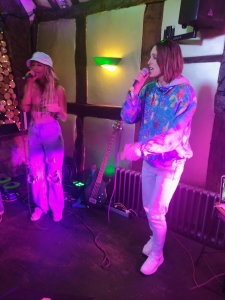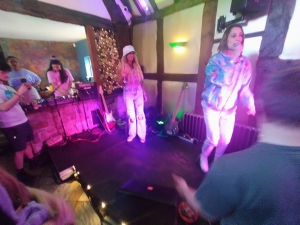 But yeah, she's got the bars and she knows how to spit them. And as with MINAS, I definitely could have listened to her perform for much longer.
And her crew too. Big up Asha Jane, Harriet, and Trish for what they did when they each took their turn on the mic.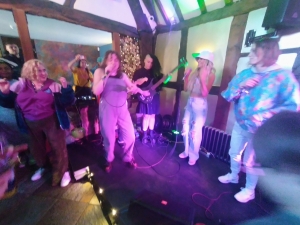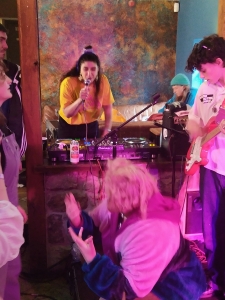 TeiFi almost stole the show when she got up and did her thing, actions that I highly approve of by the way.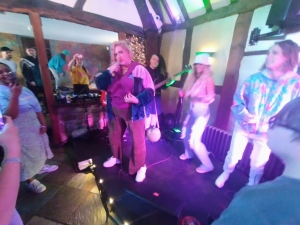 And a shout out to Brooke for playing a mean guitar, and to Eädyth for laying down the cool basslines. Some real talent on the strings right there.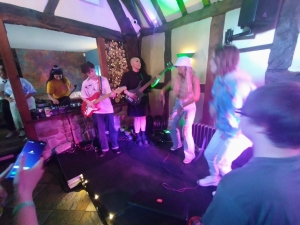 Yes, I could go on and on. And yes, I was thoroughly entertained.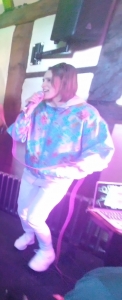 My personal 2022 FOCUS came to an end in the upstairs part of Penny Black taking in a set from Seazoo as part of an evening's entertainment broadcast live on BBC Radio Wales. Yet another band that somehow managed to miss my attention until now. But that's what these events are for, they're definitely on the LG radar now. Yes, the radar is a thing. I refer to it a lot as regular readers of my writey stuff on Facebook can attest to.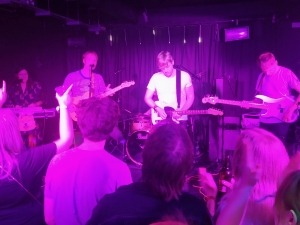 And that was my Wrexham adventure done for another year! I had so much fun for the second year running, and even though I have no idea where I'll be at in life 12 months from now, I have to say that those FOCUS Wales 2023 Super Early Bird tickets look seriously tempting.
Time for thank yous. A wholehearted thanks to the team behind it all. I'm so appreciative, and I'm still trying to get my head around the fact that Andy Jones somehow noticed this and gave such a lovely reaction in response. Thanks for everything that you, your colleagues and your whole team do.
Thanks to all of the FOCUS staff and crew for helping to keep everything running smoothly. And thanks to all of the security personnel for helping to keep everyone safe. They don't get anywhere near as much respect for their role in all of this in my opinion, and they should be celebrated more.
Thanks to all of the movers and shakers. The promoters, the delegates, those providing networking opportunities. Your role in all of this is appreciated.
Thanks to all of the artists who I saw on stage, and for making my decision to come and watch you play a good one. Especially if I saw you play for my first time.
Thanks also to those who I missed out on seeing, and for making the choice to pass on as difficult as possible. Trust me, you haven't gone unnoticed, and I will see many of you play elsewhere at some point along the line.
Thanks to Ladies of Rage Cardiff! It's been a pleasure to catch up with many of you from last October, and to meet many more of you for the first time. I'll be seeing many of you again, and not just in Wrexham either.
And, of course, the biggest thanks of all goes to Unity. THANK YOU SO MUCH for giving me this opportunity. It's been a pleasure to bond with you this week, and I am more than up for future collaborations if and when the opportunity arises to do so. Changed my mind about sharing this one. I assure everyone that I wasn't harmed during the making of this photo.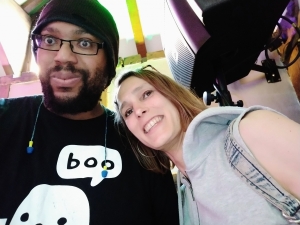 I hope I've done you proud.
So that's me done. But before I go, let me leave you with a screenshot of my upcoming plans for May. Some of you might have seen this already, but for those who haven't, just sharing so that you can truly see what I'm about.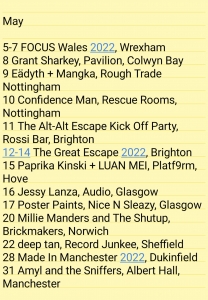 Yes, I'm doing all of this, no joke. By the time this goes out I will have gone to Nottingham and seen FOCUS participants Eädyth and Mangka perform. And this coming weekend will see me do something similar to what I just did down in Brighton for The Great Escape 2022. I plan on seeing a handful of acts down south that I also saw in Wrexham.
The rest you can see for yourself. This is my passion, and I cannot ever see myself stopping completely unless I'm physically unable to continue.
Okay, time to sign off. For those who read any of this, whether it be a few words or every word, thank you so much. And thanks again to everyone who has shown me love for all of this. It's still blowing my mind that anyone would care to give attention to any of this, but please don't think that I don't appreciate it. I do. Wholeheartedly.
Thanks for reading.
LG
https://millimagic.com/wp-content/uploads/2014/09/millimagic2-300x150.jpg
0
0
amelia unity
https://millimagic.com/wp-content/uploads/2014/09/millimagic2-300x150.jpg
amelia unity
2022-05-10 01:59:21
2022-09-10 11:24:02
Day 3 of FOCUS Wales 2022. You read my previous posts, and you showed appreciation. Thank you. One last dance? Let's do it.