The Great Big Walk was inspired by the Great Get Together, organised by Jo Cox's family. Jo's life was taken last year, and her statement that we have far more in common than divides us stayed with me the whole time I was talking to all the amazing people we met on this walk. There are people across the whole of the UK, and across the world, working together to make their communities strong.
Along my way I began picking little bunches of flowers. It's something my mum Latifah used to do, and I found it a nice way to mark the end of a walk, either passing on the flowers to somebody, or leaving them somewhere. I picked flowers for my mum on our walk through the woods to the Sea at Pembrey, which I let go into the sea for her, along with a massive release of tears and grief which I didn't realise was still there inside me.
When Lowri introduced me to a lady at the Adamsdown Big Lunch, who had put together a bunch of flowers for Jo Cox it was so fitting with my journey I felt a bit adrift, until my focus was gently brought back again with some watermelon from Vaida – thank you x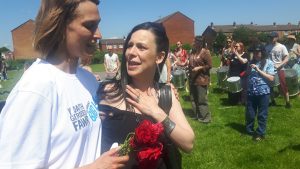 The lady with the flowers is called Dance. I'd just been dancing my sox off to the fantastic samba band, and had a couple of nice exchanges with some of the younger locals, who had started out so shy, but joined in with gusto and then got on the mic to beat-box our departure. Dance had been overwhelmed by the fact that her daughter had not only been taught in school about Jo Cox, but had felt so moved by her that she'd come home to make sure her mother also knew how inspiring she was. They had put together a bunch of roses and brought them to the Big Lunch in Jo's memory, and she passed them on to me.
I felt honoured to carry these beautiful flowers with me for the final day of the walk, to set them in the sea at Penarth, remembering Jo and all that she stood for. Andrew Carnegie (below) penned a poem which he read as we walked into Penarth, releasing the tears I'd held for Jo, and for the horrific tragedy at Grenfell Tower, reminding me of the power of poetry to connect far deeper than mere conversation.
https://millimagic.com/wp-content/uploads/2014/09/millimagic2-300x150.jpg
0
0
amelia unity
https://millimagic.com/wp-content/uploads/2014/09/millimagic2-300x150.jpg
amelia unity
2017-06-23 11:23:28
2017-06-29 18:19:27
Fleurs and Tears on the Great Big Walk