International Womxn's Day means that this time of year is always a busy one for me as people grab the opportunity to celebrate the achievements of women, and open discussions about why we STILL need to be fighting for equality.
Last year's showcase for Ladies of Rage was actually the last event I went to before lockdown kicked in. It's been a roller-coaster of a year, and I can't quite believe we're here in March again – I'm glad though that the winter is over as the only certainty is that the sun will soon be joining us.
When Ladies of Rage first discussed the opportunity to do a takeover at Dub Frequency, my initial personal reaction was no way it's too short notice and I literally had no clue how it would work. But Missy G, the driving force that she is, couldn't bear to let down the Ladies of Rage members, and so with the help of Beth Clark, the three of us managed to pull together an absolute belter of a line-up! From 12pm-10pm on Sunday, we had music, spoken word pieces, interviews, mixes, exclusive tracks and live sessions and all done remotely. Womxn were involved who had never presented before, womxn who had never had their recorded work aired, had it aired, alongside well established artists such as Wales' very own Aleighcia Scott and Dionne Bennett. Shout outs to the chatroom crew, some of whom were in it for the whole duration! (Becky Cee, Cheryl, Stabitha & Stereoripe were just a couple of names I clocked – it got pretty messy in there towards the end of the day…)
One of the highlights for me was a live session by Daisy Green and the Warrior Babes. Daisy left for Thailand not long after she had begun sharing lyrics at our LOR jams, and she's been documenting her musical journey on her youtube channel. She sent us an exclusive live set from the other side of the world, where she's been hosting her own womxn only jam sessions! We had another amazing live set from Cara Elise and Missy G, and Beth Clark's 'International Womxn, Inspirational Sounds' podcast sits beautifully within all the tracks and sections sent in by our Welsh Womxn, placing us all in the wider world context.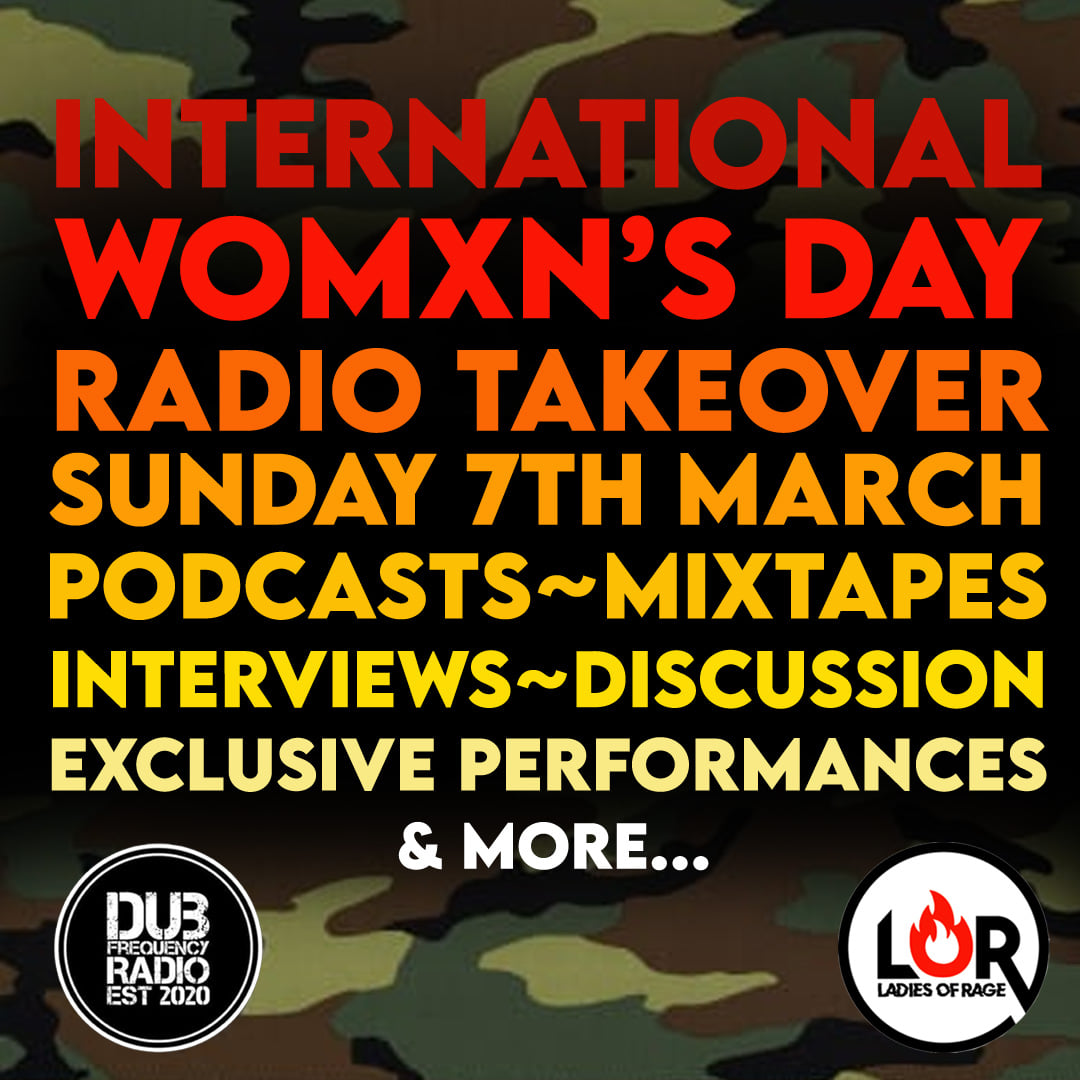 We actually had so much content that we extended the takeover to host an additional three hours on Radio Cardiff on Monday evening. Trishna Jaikara and Asha Jane pulled together a wonderful first hour, presenting spoken word and music, and discussing the amazing Harddwch Du project and International Womxn's day in general. We had exclusive play of a number of poems and tracks, including one from TBella, who went into labour to the soundtrack of our takeover, and now has a beautiful baby safe and well at home – congratulations!
Other exclusive plays that I was really excited about were from Fran B with her track 'Turning to the pen ft. Aaliyah' and Zannah Leah's gorgeous 'Special Occasion' which is out now, with visuals on her youtube channel. Elina Lee, Nina, Demzie and Dead Man's Trumpet, were amongst the artists for whom this was their first LOR involvement, and I'm excited for them all to get more well-deserved attention for their amazing music! Another newcomer to an LOR showcase, whose 'isolation' video I saw a while back and LOVED, are Foxy Roxies, who run a studio in Cardiff – I look forward to finding out more about what they are up to!
We had an amazing array of DJ mixes, including a 'once in a 20 year opportunity' to experience the 7inch pleasure from Lej 'n' Deri, a fab house mix from the legendary (see what I did there?…) DJ Precious, and a first-outing from Wildfyre, who smashed her debut set!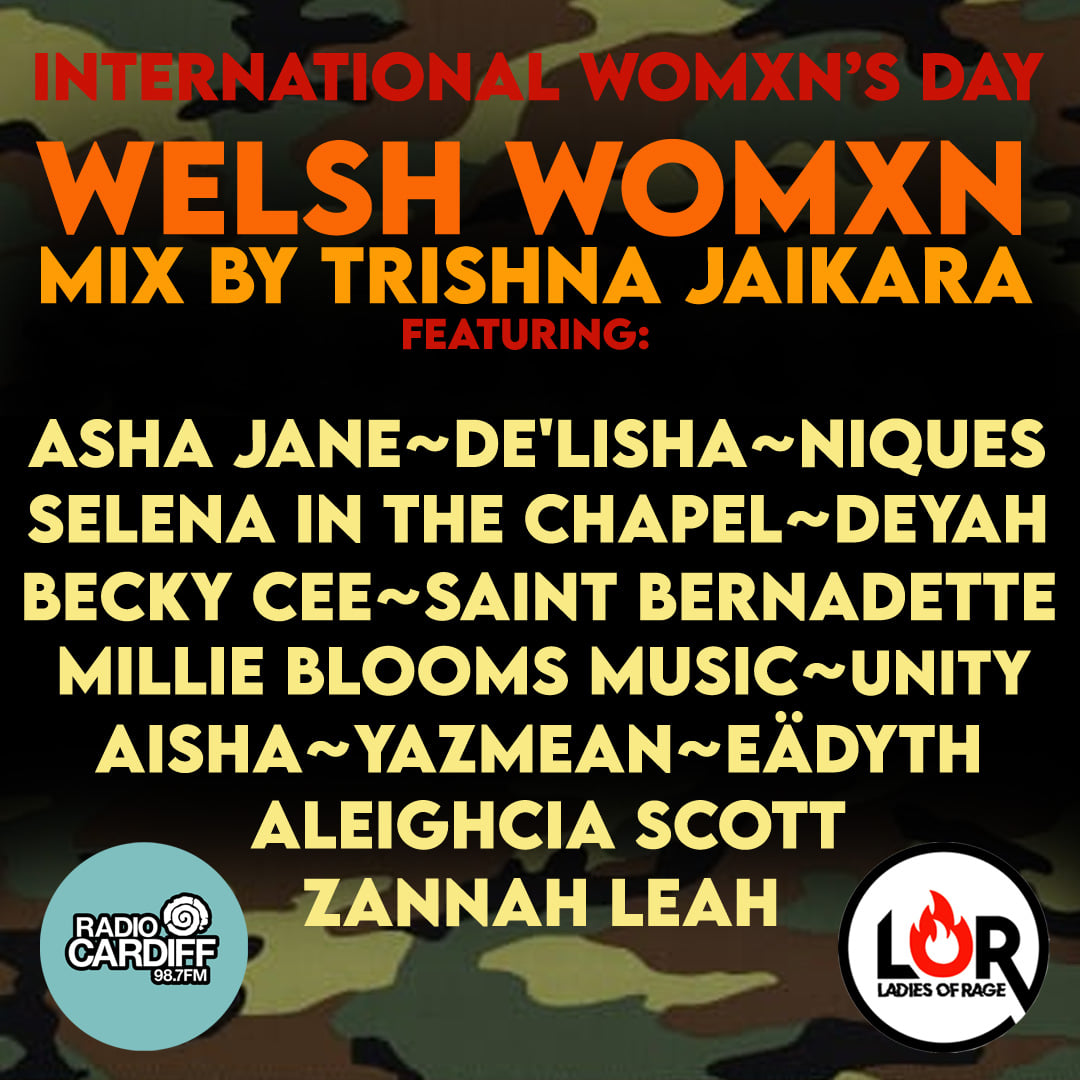 Trishna Jaikara's mix for Radio Cardiff highlighted how much home-grown talent we have here in Wales, and we are developing and nurturing more through the Ladies of Rage network. We also featured a banger of a mix from 14 year old BelleBelle and an amazing hardware set from Little Eris. The showcase was rounded off by a posse cut recorded by 21 of our members, recorded with our first male ally Stagga at the time Ladies of Rage network was beginning to take shape. My section of the takeover is dedicated to Stagga's memory, and I shared a couple of works in progress, as well as a beautiful track that he created with his lovely Nina.
Over the 7th & 8th March we showcased more than 55 womxn – blood sweat and tears went into this! Massive love to everyone who pulled together with me, Missy & Beth to make it happen – all the wonderful womxn who stepped in at really short notice to present, all our dj's, lyricists, music makers, movers & shakers. Laura, Trishna, Teifi, Malgola, Lubi, Electra, Amethyst and Hoffman. Massive thanks to Dub Frequency & Radio Cardiff for having us!
We will be uploading all the files to the Ladies of Rage Soundcloud page as soon as we have recovered!
https://millimagic.com/wp-content/uploads/2014/09/millimagic2-300x150.jpg
0
0
amelia unity
https://millimagic.com/wp-content/uploads/2014/09/millimagic2-300x150.jpg
amelia unity
2021-03-10 14:02:17
2022-09-10 11:24:03
MAMMOTH LOR TAKEOVER!