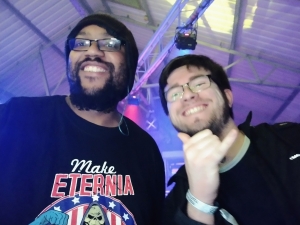 How do? LG here with your daily FOCUS Wales 2022 post in association with Unity.
It's Saturday morning here in Wrexham, and the sun is out. Hopefully you're having similar luck with the weather wherever you may be.
Going to be a relatively quick one today owing to me having little time to write before day three's festivities get underway, but I still hope to continue to capture the essence of this wonderful festival for you through the words and pictures that follow.
I had a blast on day two. Saw a whole host of top quality acts, met up with friends old (in terms of time knowing them, not age, let's make that clear to avoid confusion) and new, made new friends, had more random friendly conversations with people in the street.
Yeah, all good.
My Friday FOCUS was scheduled to be the busiest in terms of planned acts seen, and I largely stuck to it with action spanning just over fourteen hours. As with Thursday, my day started off over in the studios at Glyndŵr University with more acts from Canada on the bill.
As you might have seen at the tail end of my last post, I had high expectations for openers Super Duty Tough Work. They delivered a solid, tight set, and it is highly likely that I will see them play again next weekend at The Great Escape in Brighton. Check them out, they're worth your time.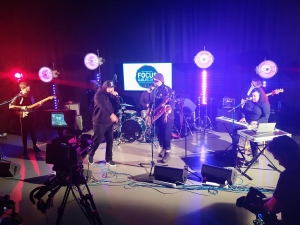 On to Art d'Ecco. Now imagine all of the cool things musically about the 80s and updated into an easily accessible package. That's exactly what you have here with this guy and his band. Plenty of influences abound, if that decade means everything to you, remember the name.
Vagina Witchcraft were up next. Yes, that's their name. And they were LOUD. Put it this way, if anyone was sleeping in that studio they would have been awakened in a hurry. They're cool people too, I saw them out and about in town afterwards and we had a lovely conversation.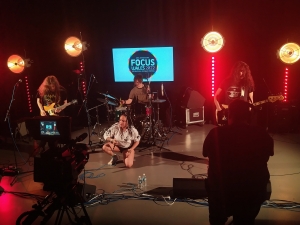 After saying my goodbyes to everyone at the uni for another year, I headed back into town and to Hope Street Church for a showcase of Spanish artists. Seen here are Sophia Lafuente (she's the one in black), the Catalan band Chico Jorge, and Marta Knight stood on the right of shot with her bandmates. Very good sounds from all of them.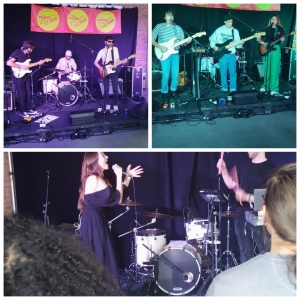 I have to single out the mini event closers Yo Diablo though. They were absolute dynamite and they had the entire crowd at HSC rocking long before the end of their set. If our paths cross again somewhere in the future, I wouldn't be mad about it.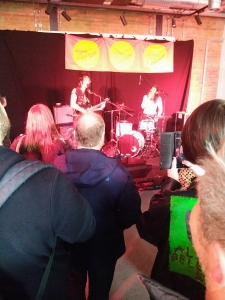 Back over to Old No. 7 and the hip hop vibes. Caught up with friends in the crowd, and there was a great atmosphere for the time that I was there at least.
First up we had Fig. bringing that Caerphilly flava. I felt the passion.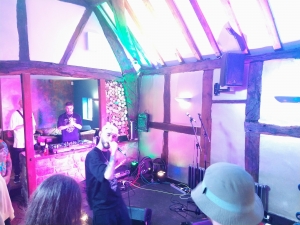 And then Aisha Kigs and her silky smooth vocals stepped up and delivered something that just simply oozed cool.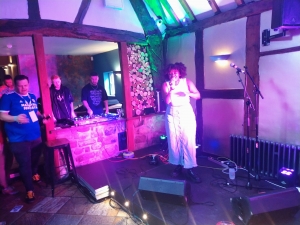 Abertawe represent! The mere mention of Swansea was more than enough to get me interested anyway, but Original TitanTeeth held my attention from beginning to end in any case. He's on the right in this shot, also seen here is Charlie J who plays his own set today in the same venue.
Over to Llwyn Isaf and FOCUS Wales' equivalent of a Big Top. Many other places I could have been at this particular moment of the day, but I didn't want to miss out on seeing Aleighcia Scott play under any circumstances. I made the right choice. If you like reggae, go check her out.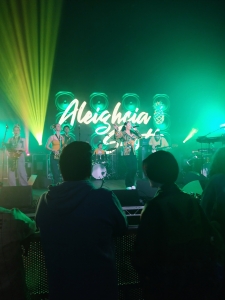 Beija Flo is cool. She's awesome, and she's one amazing lady. Sorry to everyone else playing at the same time as her, but you had no chance. As with Aleighcia above, I wasn't going to miss out on seeing her play over at The Parish. Her rich personality shines through in every performance, and she won over those in the audience who watched her whole set.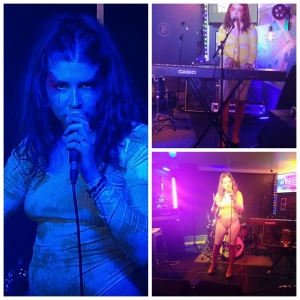 In case you haven't figured it out, I'm a fan.
But yeah, so cool to be on hand to see her first ever performance in Wales, and I'm already looking forward to seeing her play again.
My day ended at CENTRAL, but I was there for five hours switching between rooms taking it all in. Both music and conversations with friends and bands. And friends in a band. Liam Bevan is one such friend in a band (CHROMA). He is who you see with me in the snap at the top of all of this.
On the music side of things, what I heard from Feather Beds and Los Blancos sounded pretty cool.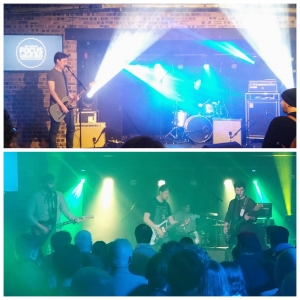 Gabe Is A Unit are one of those many bands that I wished I'd heard about sooner. Seeing them for the first time last night, and I strongly suspect that I'll be seeing them again in the future.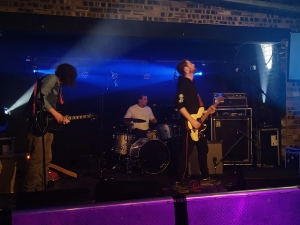 I changed my evening schedule so that I could make time to see Language Arts (having been very impressed with them in the planning stages), and I told them so later. Yet another cool band both on stage and off. Very friendly and relatable. I hope they are able to come back to the UK frequently and often. But if I ever get the chance to see then play again in their native Canada, I'd happily take it.
My second viewed Barcelona band of the day are another I'd happily see again further down the line. I thoroughly enjoyed the angry at times (their description, not mine) rock of The Crab Apples. And they're also cool people.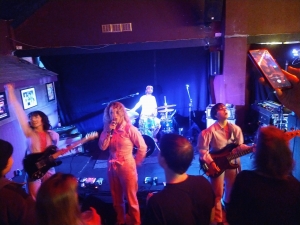 And now CHROMA. Yes, I'll find the words. I love them. They've been my homies for six years and counting, and I have thoroughly enjoyed watching them grow and develop as a band. And I have also enjoyed my friendship with them that has continued long after I returned to England to live. That hasn't stopped me travelling to various towns and cities in Wales and England over the years to see them play though. And it never will.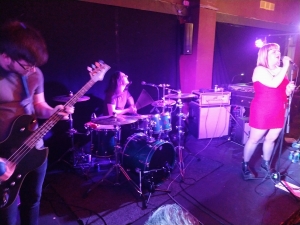 They played to a packed out Room 2 in CENTRAL, so pleased to see such a big crowd for them. KT was on FIRE with her vocals and overall performance, Bev keeping everything in control with his axe work, and Zac was playing so intensely that at one point he totally and involuntarily rearranged the alignment of his drum kit and needed assistance to put everything back in its correct place.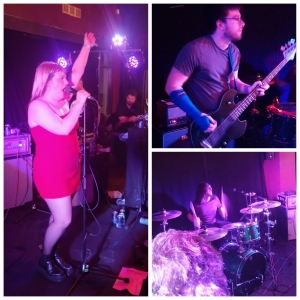 I could write about these three for several more paragraphs. You just have to know that I am so very proud of them, and the support will continue.
Goat Girl are such a cool band. Last night was the third time I've seen them play, and they continue to get better and better. I know that 'On All Fours' is still relatively knew, but I already want album three, so excited to see what they do next.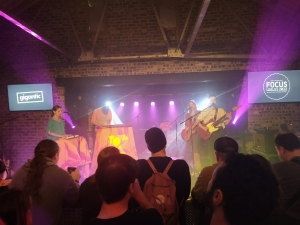 A change to the CENTRAL schedule saw Jack Found play next in Room 2. Well, how do you do! A very pleasant surprise, a very cool discovery at this festival. I definitely want to see more at some point in the future.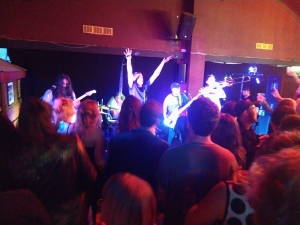 My night ended with HENGE. They were quite something. You only have to look at the collage below to get the vibe. Definitely a case of what on earth did I just watch, but you know what, I was totally there for it and the crowd reaction and interaction.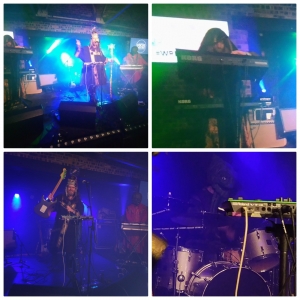 Longest scheduled day at 2022 FOCUS in the books and it was fun from beginning to end.
Day three now, and this is a real time write, so by the time you see this my day will be underway. Check the schedule.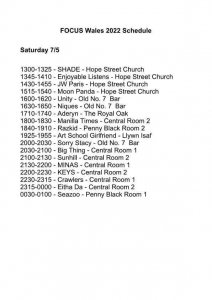 After touching base with Unity all week in various festival spots, I finally get to see her do her thing on stage at Old No. 7. I expect TrishnaJaikara to be laying down the beats with her, and I hope she brings out Cara Elise to perform with her at some point as I'd love to meet her afterwards.
Moon Panda were a band who stood out for me during the planning stages, and I'm fully looking forward to seeing them in action.
I first saw Big Thing many years ago in my Swansea residing days, and it's been quite some time since I saw them last. Looking forward to seeing them again.
Crawlers are a band who I've seen popping up all over festivals and potential gigs to attend. Definitely keen to see what they're about.
After seeing MINAS in various guises performing different roles for other artists, I'm excited to finally see him perform later.
And whenever I've mentioned the name of sorry stacy to anyone who knows, they've had nothing but good things to say about her. I understand that today's set at Old No. 7 is going to be her first ever public performance, so history in the making right there.
Looking forward to it all. Please come back for my final recap and a wrap up of my overall impressions of FOCUS Wales 2022. It will be with you no later than Monday.
'Til next time
LG
https://millimagic.com/wp-content/uploads/2014/09/millimagic2-300x150.jpg
0
0
amelia unity
https://millimagic.com/wp-content/uploads/2014/09/millimagic2-300x150.jpg
amelia unity
2022-05-07 18:35:03
2022-09-10 11:24:02
Day 2 of FOCUS Wales 2022. What I said in yesterday's title still applies. Roll text and pictures!