Ay up! You all good, yeah? Let's commence your daily FOCUS Wales 2022 LG reading in association with Unity!
So let's start with a checklist:
Was I mistaken for a bouncer? Check. (Don't worry, it's been happening for over a decade now, I'm used to it.)
Did I have numerous people in conversation take my 'Turtles' T-shirt to be a visual aid to help me remember my own name? Check. All good banter though, I loved it.
And following on from the above, one of the best random conversations I had on day one took place outside The Royal Oak inspired by said tee. Started off talking about the famous arcade game of the late 80s/early 90s, and then it ended up with us the participants speculating on what they would be like as Middle-Aged Mutant Ninja (Hero) Turtles. Would they be running their own successful chain of pizzerias whilst casting a disapproving eye over the next generation of fighting turtles? And would they all still be living with April O'Neil?
Quite the tangent, right? But I included this anecdote to give you more of an overall feel of the festival and its friendly nature. I certainly expect to have more conversations of a similar nature, though probably not as bizarre.
Shall I talk music now? Okay, go on then.
Like the picture up top? This was taken at the end of TeiFi's (right) amazing set, easily the highest highlight of day one for me. Also pictured to my right is the formidable TrishnaJaikara, she's got the sick beats. Oh, and she periodically steps away from her decks, picks up a mic and drops some serious bars. Evidently there is very little that she cannot do.
Also in The TeiFiverse was Miss Harriet, seen on the left, and to my left stands Małgola, No, who plays a solo set today. Last but not least is Unity, two from the left, and there as a spectator. She plays on Saturday.
I also loved how at one stage it became a Ladies of Rage party, with other LOR artists stopping by to show love. The unconditional support they give to each other is wonderful to see.
My day started with a walk over to the studios at Glyndŵr University for the early bird show commencing at 11am. I did exactly the same thing last October, and it was great to catch up with the students and staff who I met and talked with last time around.
As with the 2021 event, the Thursday show featured up-and-coming Canadian artists. I particularly enjoyed the sets from Anthony OKS, Tallies and Samantha Savage Smith (and her 'cupcakes', you really had to be there), seen here from in the collage that follows, SSS on the bottom right.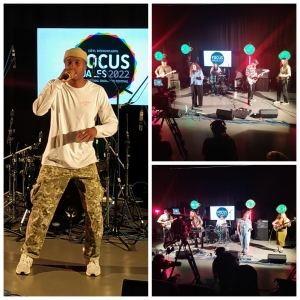 Also delivering commendable performances were Ghost Woman, JayWood and Altmeda. Same deal with the collage thing, this time from top to bottom.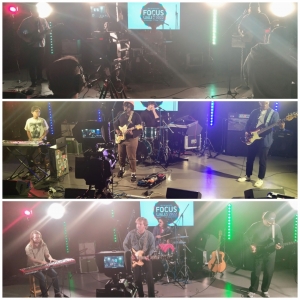 The town part of proceedings first saw me head over to Old No. 7 to watch C7s do his thing. I saw a young MC climbing his own personal mountain to success and delivering lyrics from the heart.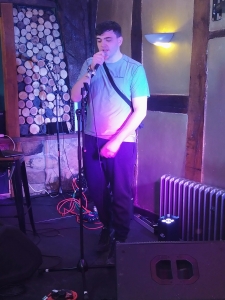 And then the ladies – as stated in my previous post – took centre stage.
First of all, Foxxglove at The Royal Oak. I saw her play last October, so expectations were high. She didn't disappoint.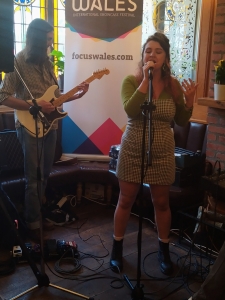 And then a first music related visit this year to Tŷ Pawb to see Ani Glass, whose music I discovered in the planning stages. She's got the vocals and the moves.
Unless you're one of those people who are reading this thing like one of those adventure game books prominent in the 80s (to kill the dragon with the sword you just picked up, turn to page 68), you will have already read my take on TeiFi over at HWB CYMRAEG. If not, go back a few paragraphs and pictures and read, it's waiting for you.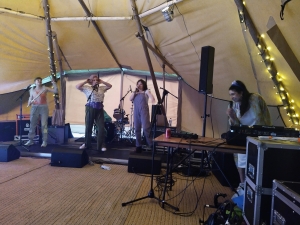 Prior to all of that, I paid a return visit to The Royal Oak for a personally highly anticipated set from Mali Hâf. Another cool discovery from the planning stages, I particularly enjoyed listening to her song 'Mamiaith' on Spotify (check it, y'all), and I was lucky enough to tell her this in person when our paths crossed later on over at CENTRAL. Her performance was top notch.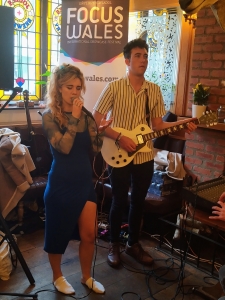 I got over to CENTRAL a little earlier than expected after TeiFi, so I was thus fortunate enough to catch the tail end of Baby Brave's set. I've seen them before, they're ace.
Unfortunately no YazMean set, it was my understanding that she withdrew owing to illness. If true – and if she happens to read this – get well soon. And I will definitely see you play again someplace, somewhere.
And so a gentleman was able to secure a spot in LG's Ladies Night at FOCUS Wales as a consequence. If you're going to do that, do it right. None better to do so than Skunkadelic who leads Afro Cluster (they played last year's FOCUS) as well as performing solo. He got the crowd in CENTRAL's Room 2 going, and I love this shot of him and Kaptin Barrett.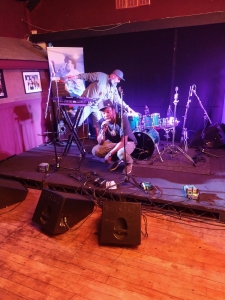 After heading back to Tŷ Pawb and quickly gobbling down some food (must schedule proper meal breaks when I do these things!), I then went to go and watch Peaness. (Be VERY careful when you pronounce their name, be sure to place great emphasis on the 'ness' part.)
I have been a fan of theirs since the early days in 2015, and I have thoroughly enjoyed watching them grow and mature as a band over the years. So many people will be so proud of them as they release their debut album 'World Full Of Worry', out TODAY! Count me amongst them. The best thing about their set was seeing the joy on their faces how much fun they had on stage.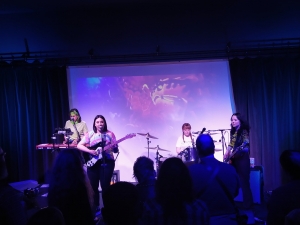 Back to CENTRAL for my second day one spell. So Sister Wives are a bilingual (Cymraeg/English) Welsh band based in Sheffield? And who lives in Sheffield right now? Oh wait, that would be me. From what I saw here, a repeat performance will be required viewing. To the right are Ava In The Dark, they did good too. They're based in Leeds, and I find myself over there a lot these days, so seeing them again is also highly likely.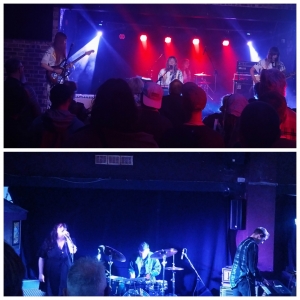 Ladies Night had a finale that was truly epic. If you're going to go out with a bang, you might as well do it properly, right? After years of trying, I finally got my opportunity to see the living breathing icon Gwenno do her thing on stage. To be honest, she could have been up there burping the alphabet in Cornish and I would have lapped up every second. Yeah, she was amazing. I definitely need more at a future date.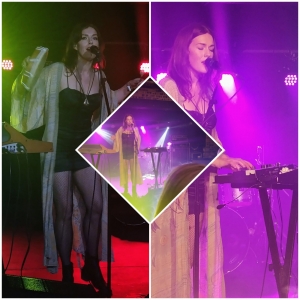 A change in the running order saw me head over to The Parish for what ended up being my final act of the day. Benji Wild, he's in there somewhere, honest. I love his flawless and easy ability to connect with a crowd, and he drew a huge following. Someone else who I saw last year, good to see him continuing on with things and doing it right.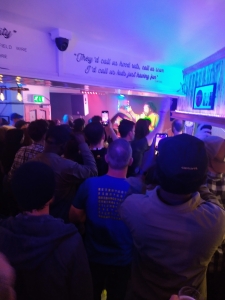 So all in all, a great day. I don't believe in doing events like these halfheartedly, and I thoroughly enjoyed my personal day one from beginning to end.
But wait, there's more! Just one third of the way in folks. You ready to see my day two preview which will just about hold up given the time that this will FINALLY go out? Then please read on.
Top tips for today are CHROMA (2245-2315, CENTRAL Room 2), and Beija Flo (1920-1950, The Parish). I've been a fan of CHROMA and their alt rock since 2016 when I travelled over to Cardiff's iconic Clwb Ifor Bach on one of my many trips over from Swansea when I lived there, and saw them play a set in support of VANT. I've since seen them play many other times in Cardiff, and in cities and venues all over England. And my friendship with them over the years has grown, top people all of them. If you're out in Wrexham tonight, you will definitely want to consider seeing them in action.
And should you wish to head over to The Parish a little earlier to see Beija, she will charm you and captivate. No point in trying to put her in a genre box, just go and be entertained, m'kay? She is a performer in every sense of the word, and she's bloody good. After making her acquaintance some time back over the socials, I finally got the chance to see her perform not long ago at Future Yard in Birkenhead, and she put on quite the show. If you see her, you'll be talking about her performance for weeks afterwards.
I'm also excited to see Goat Girl for what would be my third time, and I am so looking forward to seeing Aleighcia Scott for the first time. I also would have added Super Duty Tough Work to the sentiment of the previous sentence, but I'll have already seen them by the time this goes out. Read my opinion on them tomorrow.
What follows below is the full schedule for day two. 21 acts. Once again, no half measures.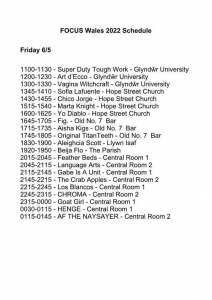 Long piece, I get it, but I write from the heart and you get the full meal, no snacks. If you got this far without skips, thank you and I hope you enjoyed reading. And please come back tomorrow for more.
'Til next time
LG
https://millimagic.com/wp-content/uploads/2014/09/millimagic2-300x150.jpg
0
0
amelia unity
https://millimagic.com/wp-content/uploads/2014/09/millimagic2-300x150.jpg
amelia unity
2022-05-06 16:12:10
2022-09-10 11:24:02
Day 1 of FOCUS Wales 2022 in the books. Music listened to, new friends made. You know the score.