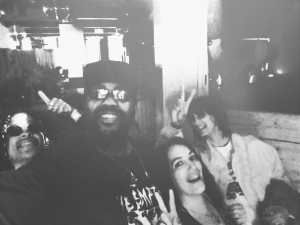 Helloooooo!!!!!!! Y'all ready for this, my FOCUS Wales roundup, part two? Yeah, you know you are. The first step is admitting to yourself that you want it, the second is giving in, fully immersing yourself in what is to come, and then hopefully enjoying it.
Hello friends, it's LG once again to deliver you my take on all things Wrexham related within the friendly confines of the online home of Unity! You know, when you're done reading this, you should stick around and check out other parts of her website. Start with the 'Walls' tab to see her Graffiti creations, and then thank me later. As someone who has personally witnessed her at work, I know just how much she puts into it, but it also comes from a place of love.
It doesn't matter if she has a can of spray paint or a microphone in her hand, my friend puts in the work! That's her up above (right) in the cover snap, and stood between us is the fantastically talented Ostara Days. You'll read more about them later in this piece. To the left is ADJUA, you'll see some words written about her in tomorrow's piece. Spoiler alert: they are nice things.
So, if you read my previous piece, you'll know that these didn't go out in the way that I intended. But, judging from the positive reactions I've received so far, it seems that the delay hasn't dulled your appetite in any way! Thank you for this, the appreciation on my end is real.
The bulk of this and the next piece were written upon my return home to Sheffield, but with the memories of Wrexham still fresh in my mind. As you read on, I definitely want you to feel as if you had been there if you weren't able to come to the festival this time around. And for those who were in attendance, hopefully seeing this will reignite some happy memories of your own.
Okay then, day two roundup with LOTS of pictures. Shall we?
Again, as is now tradition, my 2023 FOCUS Friday once again saw me make the short walk from the Premier Inn hotel, past Y Cae Ras (home of Wrexham AFC, congratulations on the promotion!) and back to Glyndŵr University to commence proceedings.
A taste of Canada got things going at the television studio, with Edmonton rapper Mouraine bringing some good and positive energy early doors.
Mouraine: "How do you know about Edmonton?". LG: "Because I'm educated?". A good-natured exchange that broke the ice at the end of his set. Got to talking to him and his crew afterwards, very nice people. And thankfully none of them took offence when I explained my one-and-done policy at FOCUS when I was asked if I would consider watching another one of their shows at the weekend. And besides, there were plenty of other happy and welcomed chance encounters over the rest of the weekend.
Mouraine's new album 'In Search OF Gold' is out now. You should definitely consider giving it a listen, especially if rap music is your thing.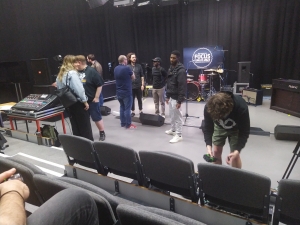 Having seen them play on exactly the same stage at a previous FOCUS, I knew exactly the kind of thing to expect from Grimelda. I just hope that everyone else in attendance – particularly those in the audience – was ready. You know how people sometimes say "you're not ready" in anticipation of dropping something big? I'll go ahead and suggest that this applied here.
Especially when the band's drummer and co-vocalist decided to go on a little walk, and started playing the floor with his sticks…
And there he is coming up into the audience, snare in hand. Like I said, I knew what to expect, I was lapping up every moment.
Some more snare action in the audience area, I think the seats were being played at some point too.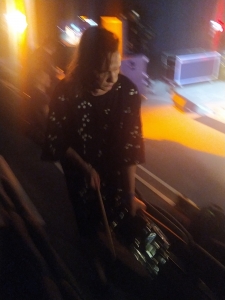 On the way back to the main stage now. See, don't sleep on those playing early if you're in Wrexham for the festival. You never know what you could be missing out on.
Back on stage now, to round out a performance that I'm sure those who were present will never forget.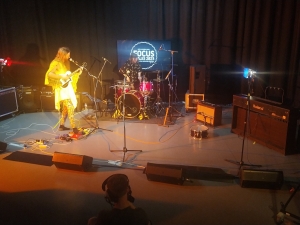 That concluded a short programme for me at the uni on the Friday. After saying my goodbyes to students (including one who I twice met during her first year, it's been fun watching her grow in skill and confidence with each passing year, hopefully I'll be back to see her one final time before she graduates next year) and staff with the full intention of returning in 2024, I headed back into town. And, as with Thursday, the next destination was Hope Street Church.
Back To HSC, and my second consecutive Spanish Wave. After being wowed and impressed by some really cool Spanish acts in 2022, the class of 2023 more than lived up to that standard. Below are Los Premios, I joined their set in progress where the assembled crowd were having a good time. As did I.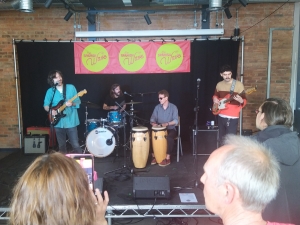 Some classic rock with a Spanish flavour up next courtesy of Black Maracas. Yes, some headbanging did occur.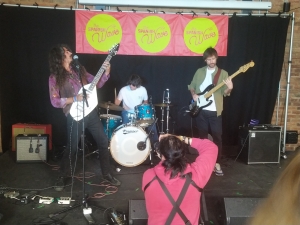 A bit of Catalan flavour supplied by Guineu and her bandmates came next to wow the crowd.
Don't mind me, just a little selfie post I made for missionary purposes in between sets. Promoting the bands The Empty Page with my shirt, and Millie Manders and the Shutup with my hat. And yes, I did have people asking about them. But that's me, constantly doing my part to promote the bands and artists that I love in my own way.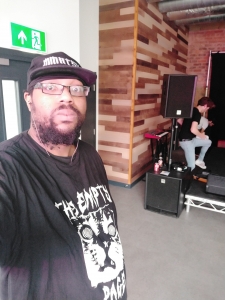 Afterwards, some performance art that those present at HSC will never forget, and hopefully remember fondly. I had no idea what to expect when I saw Argentine-by-way-of-Spain Valentinskka dragging a suitcase through the crowd on to the stage, but it proved to be the start of a story that she told with dancing, acting, and smooth vocals. Here she is part way through it all.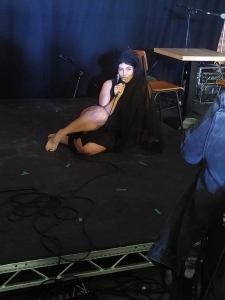 Suitcase in evidence in this shot. There were many costume changes.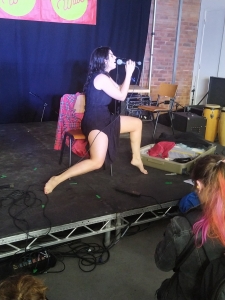 But with no noticeable breaks, she kept going throughout.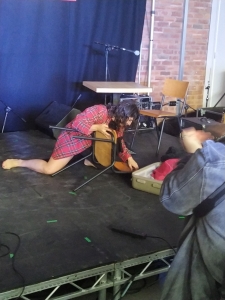 Like I said, a performance to remember. I don't know of any way that I would have discovered Valentinskka without having seen her perform in Wrexham. That's what this festival is all about for me.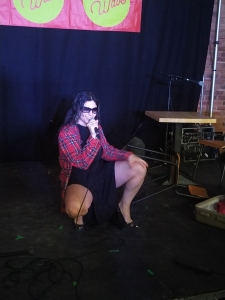 I have no problems quoting myself when the situation calls for it. And in a piece right here (posted during the technical woes) that I'm guessing that many of you missed, I previewed some of the acts that I was expecting to see on the Friday. Here's what I wrote about the next one:
"Also on the Friday priority list to see is the wonderful Mali Hâf. Again, if you saw my 2022 Top 20 countdown, you will know that her collaborative song 'Mamiaith' stood firmly and proudly at number one (one of her collaborators being Kitty, who I'm also seeing perform her own solo set later in the day), and she is such a great performer with the vocals, dance moves, and her unequivocal love of the Welsh language. Come to Old No. 7 by 4:45pm if you want to see a genius at work."
I stand by every word. She is that good.
There was a large crowd assembled at Old No. 7 in anticipation of Mali Hâf's set. Very cool to see. She started things up very well.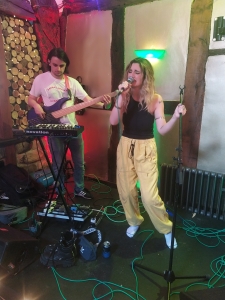 Just look here at the passion and the effort that she brought to her performance. No half measures.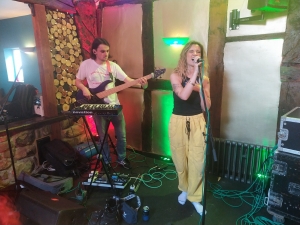 In mid movement, she is still as photogenic as they come. Joining her on stage with the bass was Ioan Gwyn. I would see him play later on with another talented artist, who you'll read about later into this piece.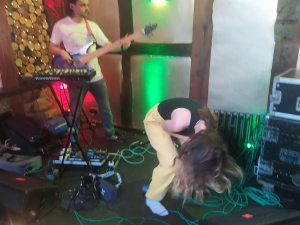 But back to Mali. She did play Mamiaith, and prior to doing so she dedicated the performance to me, whilst thanking me for recognising the song as being my top track of 2022. You're welcome, always.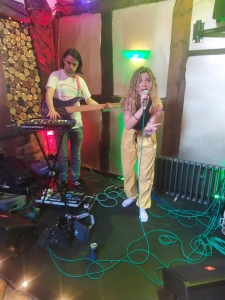 Mali Hâf. A fantastic performer. The sky's the limit for her.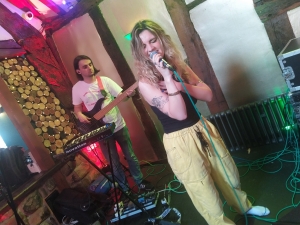 My first visit of the weekend to HWB Cymraeg – a hub set up in the heart of the town centre to celebrate all things Welsh – saw me first take in a lively performance from skylrk., accompanied by a full band. Everybody gave it plenty.
I particularly enjoyed the performance of 'Niwed', a track that appeared on the February release Sbardun EP, courtesy of High Grade Grooves (not that I'm biased or anything, but I think that you should all get a copy!). The live version just went OFF.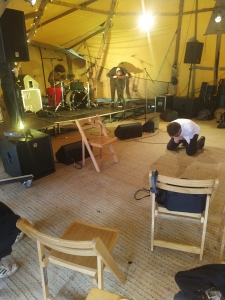 OI OI!!!!!! Touching base for the first time in 2023 with Unity. I love how our friendship has developed over the past year-and-a-half, staying in contact outside of FOCUS, and my subsequent visits down to Cardiff on two further occasions to see her and other friends have been moments to treasure.
Watch out world. We're not done yet. I asked if she wanted a redo of the selfie. She said no. I love that attitude.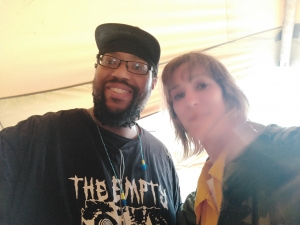 She was next to take the stage alongside Ostara Days (who I mentioned up above) and Brooke (aka Tom). The sounds of Samhain could also be heard during the set. However, as you've probably figured out, this was snapped before it all kicked off.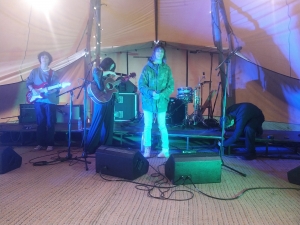 There are no stills from me of the performance, as I had a special request to film it (shout out to TrishnaJaikara, missed you SO much at Wrexham this year!). Here it is for all of your viewing pleasure. It's close to twenty minutes long, so come back to this part later on if you need to. But please don't ignore it, it's so much fun to watch.
All of us would make our way over to The Penny Black, where we would see Queen of Harps take to the stage, with Niques on deck duty. I do believe that she might have been the first Scottish rapper that I have seen, if this is the standard to go by, I've clearly been missing out. Definitely need to check out some more. To anyone in the know, any reccomendations?
I do love my angled shots. Niques is now up front with a microphone in her hands hyping up her girl.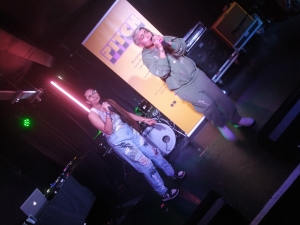 And, as with Dave Acton one day previously, it was cool to see some of the assembled MCs in the audience take to the stage to drop some guest bars when invited to do so. This community likes to have fun.
I love the point, specifically on Fridays in Wrexham during FOCUS weekend, when the festival crowd starts to blend in with those who are on their regular Friday night out. A mini cornucopia of noise, colour and fun. That started to happen around about this time.
For Friday's primetime shows, I set my stall out over at the Wynnstay Arms Hotel, as I had five acts in a row that I wanted to see over there. Some tough choices had to be made during that stretch in terms of clashes, but I'll definitely do my best to see those who I missed out on at other shows as soon as I can.
Speaking of clashes, one band I missed out on seeing during the 2022 event was Hourglvss. As soon as I found out that they were playing this time around, I made sure to list them amongst my priority acts to see. Worth the wait? Yes, absolutely. And the near capacity crowd in attendance for them definitely agreed from what I was seeing from them.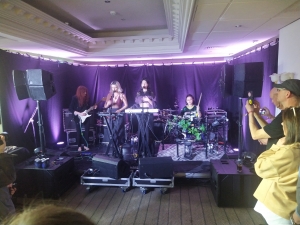 I discovered Atay & JAX during the planning stages, and I absolutely fell in love with their song 'Avril Lavigne'. It definitely would have been a Top 20 contender for 2022 had I heard it sooner.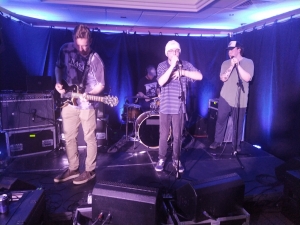 They delivered a very cool set, and they definitely won the crowd over by the end of it. I chatted to them afterwards, nice people. Our paths would cross again at various points over the weekend, and right at the very end when our respective journeys home saw us commence them on the same train service. Hopefully they'll make their way back to these shores again before long.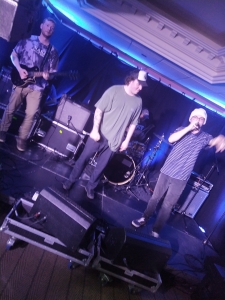 Next up to take the Wynnstay stage was Kitty. She also performed on the Mali Hâf-led song 'Mamiaith', so I made a point of watching her perform too. That impromptu French lesson will live with me forever.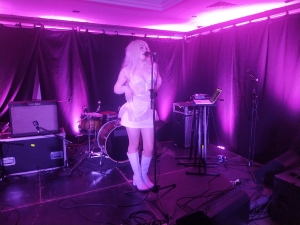 I enjoyed it, not just her performance on stage, but also the friendly natured banter that she had with her mother throughout. She was sat a few rows back, proudly cheering on her daughter.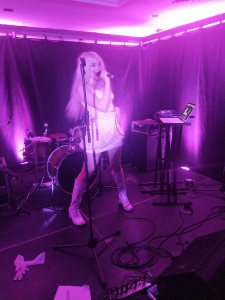 So here's myself and Minas having a 'where's the camera' moment? A very busy weekend for this one with his own performances and on the decks for others. Very hard working guy, all the success that has come his way is richly deserved.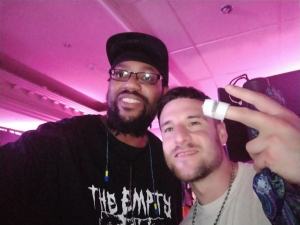 You like pop music, don't you? Give MACY a try, I'm sure that she'll have something amongst her releases that you'll like. Note the presence of Ioan Gwyn on bass duty, my second time of the day seeing him grace a stage.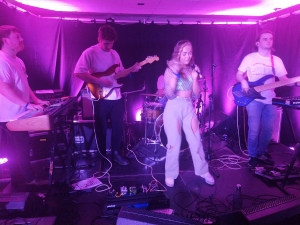 Listening to her song 'Swear Down' – an unapologetic slice of feel good pop – was the clear motivating factor for me seeing her perform here. I enjoyed what I saw and heard. Bravo.
And then it was time for Friday's main event.
If you know LG, you know that LG loves him some CHROMA! I've known KT, Bev and Zac for nearly seven years now, and I couldn't be prouder to watch them continue to grow as a band, both from near and afar.
This one mainly showcases Bev. His axe work continues to be top class.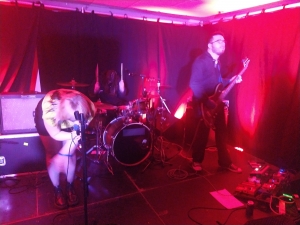 Zac looks as if he's being distracted by something. But no worries here, his mind was 100% on the job.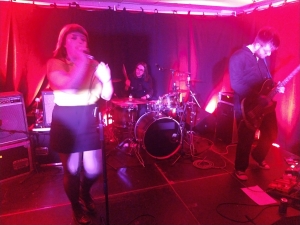 Obligatory 'Katie in flight' shot. Got to be done, you know.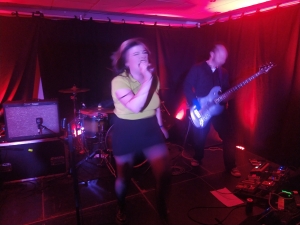 The atmosphere in the Wynnstay was electric for CHROMA. I turned around to see the place completely packed out, as well it should be. No place I'd have rather been in that moment, and as long as CHROMA continue to play FOCUS Wales, I'll continue to be there to watch them.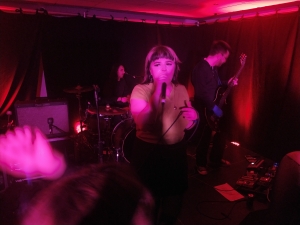 After saying my goodbyes to my dear friends, I made my way over to The Rockin' Chair for my only visit of the day. But what a great reason to be there. If you ever have an opportunity to watch Afro Cluster play live, you just HAVE to take it. They are fantastic value.
Here's a small sample of the atmosphere, but trust me, this little clip scratches the surface when it comes to justice being done. You really had to be there.
Kaptin Barrett is one of the good guys, another of the movers-and-shakers within the industry giving others a platform to shine. I love this snap. You should find out more about him, go to his website, his name without the space, followed by the obligatory dot com.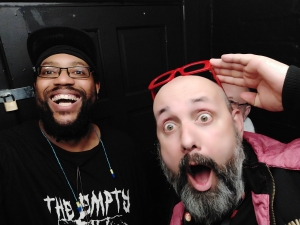 My day concluded with my only visit of the weekend to The Parish, where Boy With Apple rounded off proceedings. Note the presence in the assembled crowd of John Robb (if you don't know who he is, then go away and educate yourself as soon as you're done here), and Emmi Manteau of Baby Brave.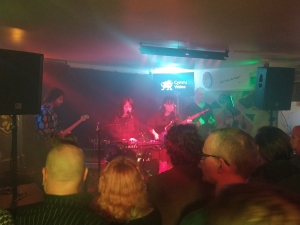 So that was my 2023 FOCUS day two, many acts seen over a timespan of thirteen hours. Go hard, or go home. I know no other way. And neither do I want to.
Alright, I hope you enjoyed all of that! Perhaps I've given you some ideas of acts to check out for yourself? If so, my work here is (almost) done. Come back on Saturday for my final day piece, ya hear?
'Til next time
LG
https://millimagic.com/wp-content/uploads/2014/09/millimagic2-300x150.jpg
0
0
amelia unity
https://millimagic.com/wp-content/uploads/2014/09/millimagic2-300x150.jpg
amelia unity
2023-05-12 17:57:43
2023-05-12 17:57:43
FOCUS Wales 2023. Day 2, LG style. More words and pictures for you, come look.