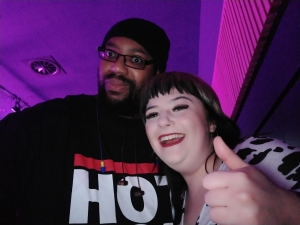 How's it going people, all good? Good, good. I know that I – your (sometimes) friendly wordsmith LG – cannot hear you, but I'm pretty certain you all said yeah, I'm good.
Are you ready to receive the very final part of my FOCUS Wales 2023 roundup, brought to you by Unity? Well, I should think and hope so if the ongoing positive responses I've been getting for my days one and two roundups are anything to go by! Again, in all seriousness, thank you very much. These things do not go unappreciated.
Okay then, day three? You ready (sitting comfortably or otherwise)? Then let's begin.
The cover shot up above is with my dear friend Katie Hall, who fronts CHROMA. Taken one day after their set over at the Wynnstay Arms, and minutes before she took to the stage once again with HMS Morris. Scroll down to that part now if you like, but you'll miss all of the good stuff in between.
I was to have a very busy day, once again seeing multiple acts over several hours. Again doing my missionary work, the band in question are The Lancashire Hotpots, sporting their RUN DMC parody tee with pride.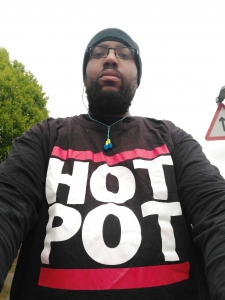 With the music-related festivities over at the university concluded for another year, I headed straight into town and over to HWB Cymreag to get things going. First off, a belly dancing performance courtesy of One Kabira.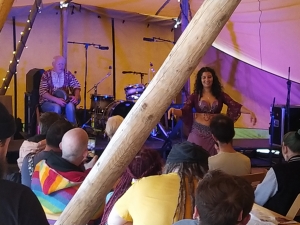 Their performance went down a storm. A good marker for what was to come.
After having another welcome encounter with NADUH as they were making their way over to Old No. 7, I made my final 2023 visit to Hope Street Church to take in part of a showcase of artists from Hong Kong.
First up was XTIE. I liked what I heard from her in my planning stage for this year's go round, her song 'new classic' is worth a listen. Sounded very good live.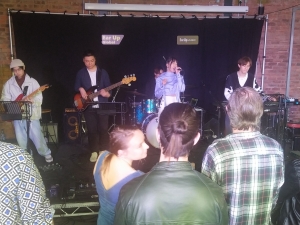 Bedroom Party then took to the stage. I particularly enjoyed the songs they played that you could have a serious dance to, such as 'Inside My Head'. One notable thing was when they went full on into their set at a time when I thought they were still soundchecking. Definitely caught me out and a few others there! But no complaints, just more to enjoy as it turned out.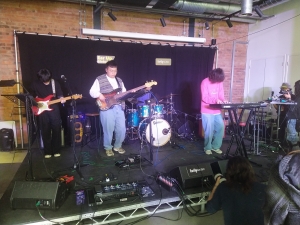 Final set for me at Hope Street Church came courtesy of Prune Deer, who mainly played instrumental tracks. Something a little different, a change of pace, but one that I liked.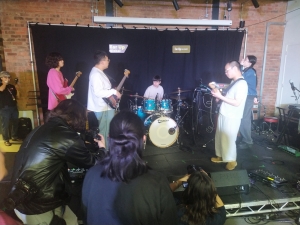 I then crossed the road back over to Old No. 7 to join this big crowd. There were a lot of people there for the next act, many of whom I knew. I could quite have easily spent over an hour in there just talking to everyone.
So yeah, people showed up – and rightly so – for ADJUA. Remember the name people. With the right guidance, she's going far.
This shot doesn't do enough justice to the amount of people who were in there representing for her. People were around several feet deep in every direction that I looked.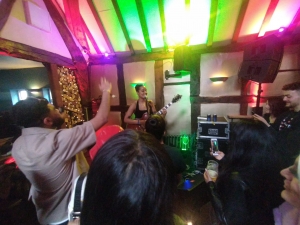 It's clear to see that she puts a lot of heart and soul into everything that she creates.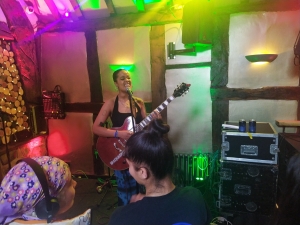 I wish nothing but good things for ADJUA as she progresses. I certainly hope to see her play again before long.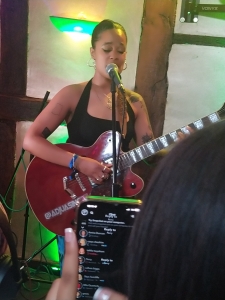 A wide shot of my one and only visit of the entire weekend to Llwyn Isaf, the flagship FOCUS venue. The headliners of course are the biggest sell, but there will always be artists playing elsewhere at the festival who are just as worthy of your attention, and that was the case for me in 2023.
I was there to see Cosmic Dog Fog. After listening to their Spotify output and reading the bio contained within, I was expecting something a little out of the ordinary. I wasn't to be disappointed.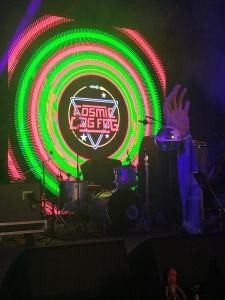 This picture tells 1001 words.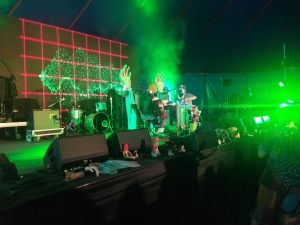 Can we just take some time to appreciate the next level decoration as seen at the front of the stage?
They came down to Earth from their home planet during the 2020 lockdowns and ended up in Wrexham. How extremely fortunate for the town and its residents to be graced with their presence.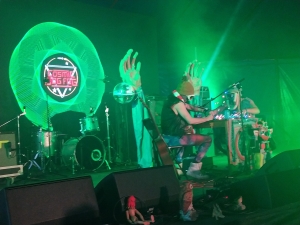 Towards the end of their set, they were joined by some of their interplanetary friends. Yeah, you had to be there.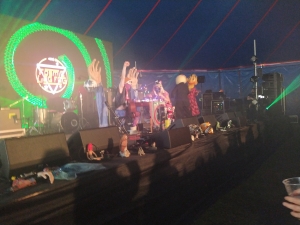 And if you weren't, you missed out on seeing this! So yes, I got the complete out of the ordinary experience I was expecting. What a trip. And an enjoyable one at that.
Positive random encounters were at their highest on the Saturday for me. Including one with a gentleman who I had a short conversation with after a short meal break and on my way back to Old No. 7. He approached me because he believed he'd seen me out and about at various gigs in Manchester and he recognised my face. Crazy, but true. So, if he somehow happens to read this, it was cool to meet you. And don't hesitate to see hi if you seen me again.
Back at Old No. 7, and there in time to catch the final few songs from the set of Alekxandr. I didn't think that I'd be back in time to see anything from him, so that was an unexpected pleasure.
A bit of accordion action next, courtesy of Heather Ferrier. It's not often I get to see someone playing an accordion on stage, so I wasn't going to pass up on this opportunity, especially after hearing 'Apple 1' on Spotify a few days prior, and liking it.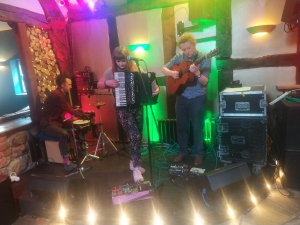 The first of three appearances over at Tŷ Pawb had the purpose of spending some time in the company of tAngerinecAt as we watched Cerys Hafana's traditional folk offerings together. The harp she played on was a lot bigger than it looks here.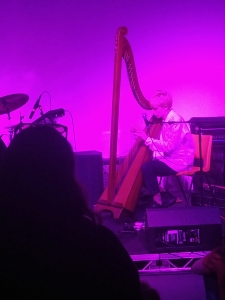 She had the assembled crowd hanging on her every sung lyric and spoken word.
The vast majority of my remaining Saturday programme took place over at The Rockin' Chair. And it all kicked off with me joining the set of Carlota Flâneur in progress.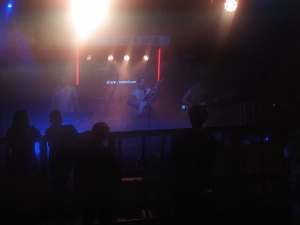 I was very impressed by the music of Laurence-Anne in my planning stages, and I made a point of being there to watch her set in The Rockin' Chair's smaller room. I made the right choice.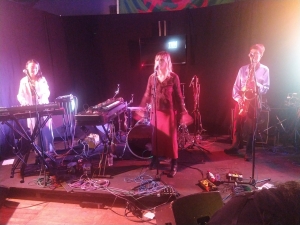 Very expressive in her vocal delivery and stage presence.
And only at FOCUS Wales could I see artists playing an accordion, a harp and a recorder on the same day. How's that for diversity?
This shot does not do any justice whatsoever to the energy and drive that Korea's Wedance brought to their set. You're just going to have to take me at my word when I tell you that they were PROPERLY going for it. If they ever come back to the UK, catching them at a show is 100% recommended.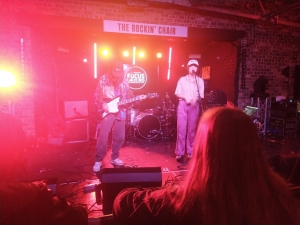 Making their way to Wrexham for the first time were Newport's PARCS. And if they carry on in the same vein, they'll certainly be asked back up north to play many times over. Decide for yourself by giving their 'Dawnsio Trist' EP a listen.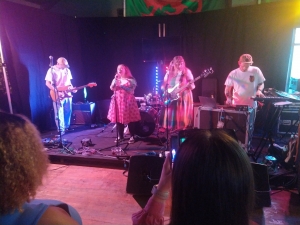 And now to the act that was the biggest surprise for me for the whole of FOCUS 2023. And a pleasant one at that. I wasn't quite sure what to expect from Hannah Grae prior, but my goodness, this one has everything. Powerful vocals, and a fantastic stage presence. A bit further from the crowd being in the main room, but she had a way of keeping everyone in that room involved and engaged.
Whatever you hear from her on record is amplified several times over when she and her band perform live. Again, as with others I've mentioned, if you have an opportunity to see her play life, I cannot recommend that you take it up highly enough.
Uh-oh, it's the obligatory 'he's in there somewhere' shot! Back over to Tŷ Pawb, and there in good time to catch part of Ogun's set in the Flexible Space. Lots of familiar faces in the crowd representing.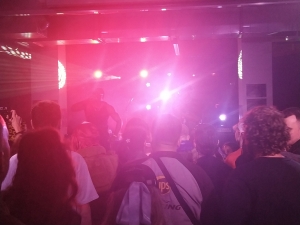 HMS Morris were on my list of priority acts to see over in Tŷ Pawb's Performance Space. And to think that I didn't even know of their existence as of a few weeks ago.
Thanks to our mutual friend Mali Hâf using their song 'Family Souls' as background music to a short video that she created for her socials, I was able to find out for myself just how good they are. Family Souls is now in line to be one of my top twenty tracks of the year, a long way to go before that is officially the case, but they've more than earned that chance.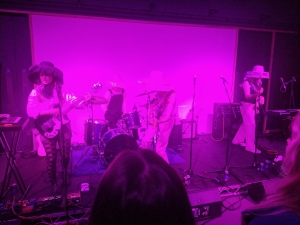 I read in one of their interviews that they liken themselves to being introverts dressed as extroverts. Few things say that more than the donning of headgear that resembles a hybrid of drill sergeant and lampshade.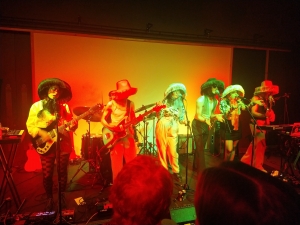 I enjoyed myself, just as I knew I would. Note the presence of Katie and two other talented musicians adding to the numbers of HMS Morris as they continued to perform to a high standard. I definitely want to see them play again.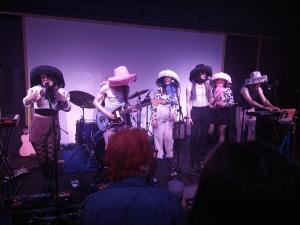 Main event time for me back at the main room of The Rockin' Chair. I have been a fan of Dream Wife for over six years, about a year or so before the release of their first album. Simply put, I think they're amazing.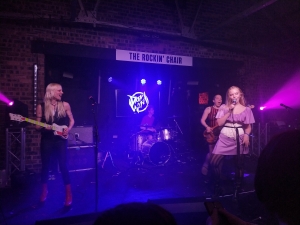 Rakel Mjöll. So much stage presence, mixed with the right amount of charisma and sass.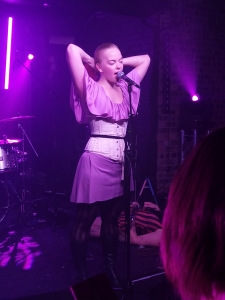 Alice Go. I've seen a lot of guitarists play live on various stages over the years. She is easily in my top five, no question about it.
Bella Podpadec. Bassist of the highest order, and many's the time when you might see her at shows coming out early to draw sketches of bands playing in support of them. And do try to stay out of the way of her high kicks.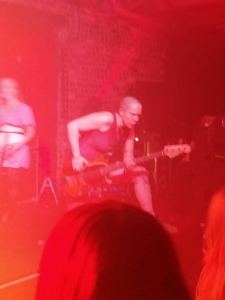 Alex Paveley. The Wives couldn't wish for anyone better to back them up on drums.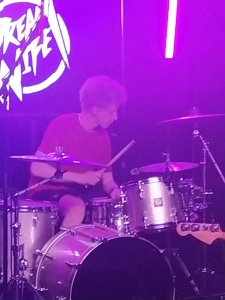 It's great to watch them continue to have so much fun on stage as they continue to perform. So looking forward to hearing their third album 'Social Lubrication' upon its release in a few weeks from now.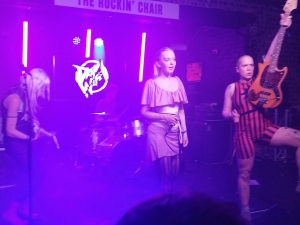 Final visit of the weekend to the Flexible Space of Tŷ Pawb, and to see a band that is on the up. Private Party, remember the name and be sure to check them out.
Brodcasting legend Adam Walton introduced them onto the stage, and they are more than worthy of such an endorsement. And if you want to consider the endorsement of this mere mortal in addition, they're very very good. Start with their song 'Could've Asked Sooner' and take it from there.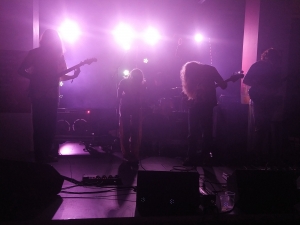 I absolutely loved each and every one of my encounters with NADUH across the entire weekend. Such lovely people, and their music is top notch. If they return to the UK on a future tour, don't even bother trying to stop me from buying a ticket!
Here we all are, along with Queen of Harps and Mauvey, as we passed each other on the way to our next shows of the night.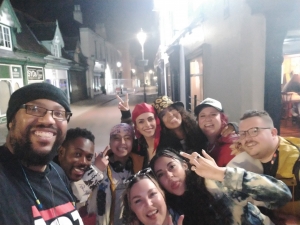 Shortly afterwards, another very welcome encounter with this one. Myself and Ffion (Foxxglove) are pretty much kindred spirits at FOCUS Wales now. The first year for both of us in Wrexham was 2021, and we have come back for the festival every year since. Long may this run continue.
My final 2023 FOCUS stop brought me back to The Rockin' Chair, where I was able to enjoy a fantastic set from Band Pres Llareggub in progress. They had the crowd rocking with their mastery of their brass instruments and the party vibe that they generated.
Don't mind me, just having a cheeky cider in between sets. Inch's. Yum.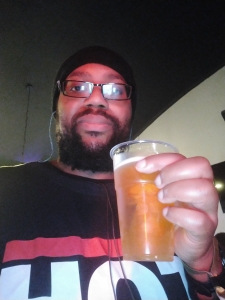 Final act of the day, and indeed the whole thing. ACID KLAUS, that's him on the right, accompanied by his talented musician buddies.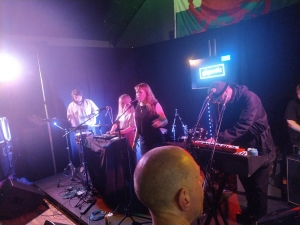 A mixture of crowd roasting and good natured banter with his top notch production. A party with an edge.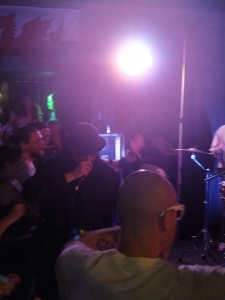 I had a fantastic time, and it served to be a great way for the music, and the partying, to draw to a close.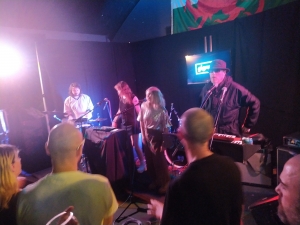 What was to prove to be the penultimate encounter with Mouraine (second from left) and his crew (I would see them again for the final time on the train journey out of Wrexham a few hours later). Again, as with NADUH, fantastic to see them so many times. Hopefully our paths will cross again in the future for more 'educated' conversations.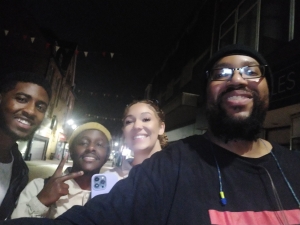 One final 2023 look at the HWB. So many fun happenings took place in there on this go round.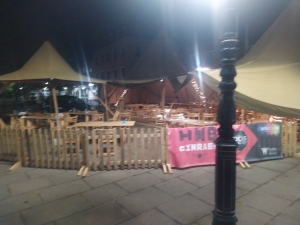 A few hours of sleep back at the hotel, and then the Highlander was packed up and ready to go.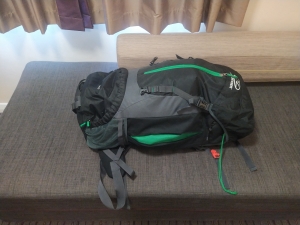 Snapped partway through the journey home back to Sheffield at Stockport, Greater Manchester. Fun fact: I used to live there. The town obviously, not the train station.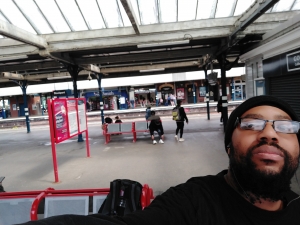 This one probably doesn't show up too well here, but I had to deal with a bunch of relevant train delays and cancellations on the way back. After the idyllic surroundings and atmosphere of Wrexham, definitely a hard case of welcome back to reality!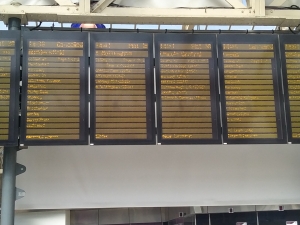 But I eventually made it back. This was snapped shortly after I made it through the front door of my Sheffield home of 3½ years.
So all in all, another great FOCUS! Yes, the problems I spoke of in earlier posts were quite trying, but my overall experience wasn't ruined. I just hope to return again next year to continue what has basically become a love affair now.
Thanks to everyone involved in the running of the festival for making it happen, those they partner with to amplify the experience, those who performed, those who worked tirelessly behind the scenes to help their performances to be the best they could be.
Thanks to my friends, both onstage and off, for helping to contribute to my positive experience, and to those who I met during the festival who are sure to become good friends in the long run. Such encounters go a long way you know.
And, of course, the biggest thanks of all goes to Unity. Thank you for being a great friend, and for continuing to be the wonderful person that you are. Looking forward to doing even more collabs with you in the future.
I originally had a cool snap that we took together at 2022's FOCUS underneath this, one that I chose to use again from a previous piece. But to reflect the fact that a Unity is for life and not just for FOCUS, here's a snap of the two of us from the Sbardun EP launch event at Porter's Cardiff from February 2023. That was a truly brilliant night, spent in the company of many great friends, and me being down for it from Sheffield wouldn't have happened without her mentioning it to me in the first place. She's a real one, and I am very happy to have her in my life.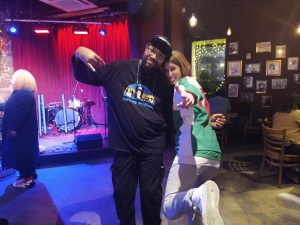 Okay, that's it! However you chose to read these pieces – top to bottom, scrolling through to look at the pictures, looking for the part where I specifically mentioned you because I told you you'd be in there, anything else – thank you. I appreciate you more than you will ever know.
If you liked what I put out, keep an eye on my Facebook, or any future Unity team ups. There will be plenty to keep you entertained.
Alright, show's over. Have a safe journey home.
Thanks for reading
LG
https://millimagic.com/wp-content/uploads/2014/09/millimagic2-300x150.jpg
0
0
amelia unity
https://millimagic.com/wp-content/uploads/2014/09/millimagic2-300x150.jpg
amelia unity
2023-05-13 20:26:37
2023-05-14 14:51:44
FOCUS Wales 2023, Day 3. Your final festival round up from the Book of LG.