Hello there!
My name is Leo (friends also call me LG), and I am delighted to accept Unity's kind invitation to be a guest blogger here on her site for the duration of FOCUS Wales 2022! Yes, that's me up above.
The main thing you need to know about me is my passion for live music. Sure, you might know someone similar when taken at face value. But I truly mean it. I'm that guy who will travel for tens and sometimes hundreds of miles at a time to watch an up-and-coming band play at a small venue in the middle of nowhere. I'm also that guy who will think nothing of going out to as many consecutive nights out at a gig or festival, when I'm done with FOCUS here in Wrexham I'll be out for a further 10 straight nights for a total of 13 overall.
I've been to many festivals over the years, but last October was my first ever time coming to FOCUS. Needless to say, I wish I'd been able to come here sooner! Such a great and friendly atmosphere, and I enjoyed the many random conversations that I had with fellow fans and performing artists as much as what I saw when stood in front of the many various stages. I'm definitely looking forward to experiencing more of that this time around.
My first time encountering Unity came at last year's FOCUS event when I saw her perform at Old No. 7. I had the pleasure of meeting her shortly afterwards, and other fellow artists also part of the Ladies of Rage Cardiff collective, amongst them Luce Kanon, TeiFi and TrishnaJaikara. And this collaboration you see here with Unity has come as a result of staying in contact with some of them over the intervening seven months.
For the next few days I'll be letting you know my top bands and artists to see on each day, as well as give you a recap of the day's previous events from my perspective. As there is nothing to recall in terms of action right now (I wasn't at the launch event last night due to not being a delegate), let me tell you instead about a stretch of Thursday's planned action that I'm simply referring to as 'Ladies Night'.
Now I plan to be relentless on Thursday, taking in as much music as I can between 1100-0140, but there's a stretch between around 6pm and midnight where the ladies will take centre stage.
Foxxglove, Ani Glass, Mali Hâf, TeiFi, YazMean, Peaness, Sister Wives, Ava In The Dark, Gwenno.
Quite the run, huh? Each and every one of them comes highly recommended by me, and if you're out and about in Wrexham yourself, anyone of them would be worthy of your attention.
And if you're not able to be in Wrexham in person, I hope that my daily writings will give you the sense of feeling as if you were.
'Til next time
LG
PS Here's my full planned schedule for Thursday. Many other cool acts are also available to watch, it's a shame that I cannot be everywhere.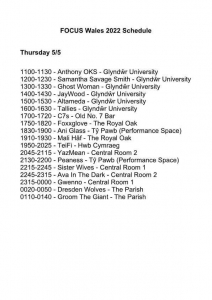 https://millimagic.com/wp-content/uploads/2014/09/millimagic2-300x150.jpg
0
0
amelia unity
https://millimagic.com/wp-content/uploads/2014/09/millimagic2-300x150.jpg
amelia unity
2022-05-05 09:43:44
2022-09-10 11:24:02
Just a guest post from your friendly neighbourhood live music enthusiast.