After a long and drawn out process, Cardiff Council has seen sense and will be returning the Millenium Walkway Hall of Fame to Cardiff's graffiti artists.
This hoo-ha began back in March when I set up a petition to stop one of Cardiff's only legal walls being sold off for advertising:
1,178 people signed the petition, but It was thought that advertising along this stretch of wall could bring in £100,000 of well-needed funds for the city and a new location would need to be found.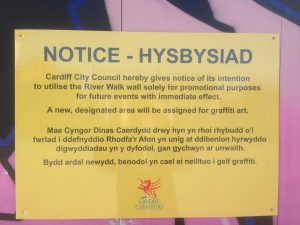 The new location was decided on, at Callaghan Square – not quite so peaceful – surrounded by traffic, but still a safer space than most graffiti spots, and easy for visitors from outside the city to get to. Finally though, it has been agreed that it makes more sense for the original wall to be re-instated.
The space has hosted a number of jams, including the 'Back to Nature' jam for International Women's day:
I look forward to seeing many more events to come once the Council's own branding is removed from the area.
Thanks Barry Diamond for this epic panorama image of the wall before it was covered up in April:
Related articles:
Knitting & Graffiti… Good for our mental health (millimagic)
Petition to save Cardiff's graffiti 'hall of fame' from Champions League final adverts (The Cardiffian)
Tongwynlais Resident Starts Petition to Save Cardiff Graffiti Landmark (Tongwynlais.com)
Whistle-stop tour (millimagic)
The Writing's on the Wall (Diff Graff)
RIP Cardiff's Millenium Walk Graffiti Wall (We Are Cardiff)
Millennium Walk Away (Diff Graff)
A graffiti wall ban on Cardiff's Millennium Walkway comes into force ahead of Champions League final (Wales Online)
No news = good news (millimagic)
Cardiff has a new graffiti wall and work has already started (walesonline)
I love Cardiff Council (millimagic)
Petition: Save Cardiff Millennium Walkway Graffiti Hall of Fame (change.org)
https://millimagic.com/wp-content/uploads/2014/09/millimagic2-300x150.jpg
0
0
amelia unity
https://millimagic.com/wp-content/uploads/2014/09/millimagic2-300x150.jpg
amelia unity
2017-07-28 16:47:34
2017-07-28 16:47:34
Finally!!